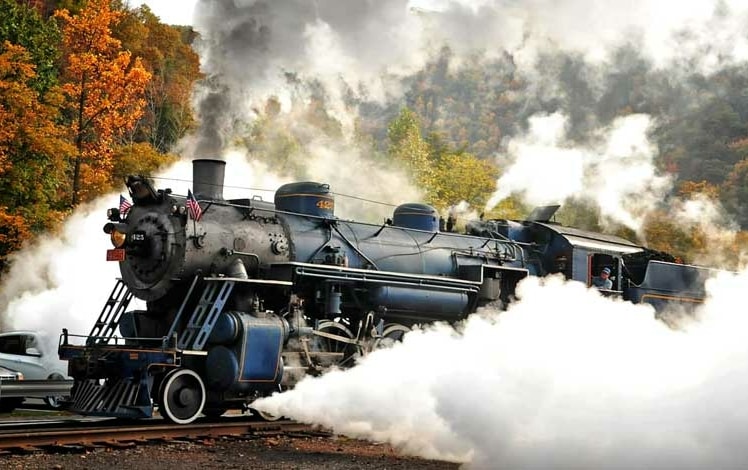 Lehigh Gorge Scenic Railway
On Lehigh Gorge Scenic Railway, relax and ride comfortably in diesel engine vintage coaches built as early as 1917. Narrated round-trips follow the Lehigh River over bridges, through Glen Onoko, and into the Lehigh Gorge State Park. High-rising cliffs, mountain scenery, and wildlife surround the train along the forested route to Old Penn Haven.
Choose from coach cars or open-air cars. Standard blue coaches were built in 1932 by Bethlehem Steel. Each coach comes equipped with functional windows, comfortable seats, and clean restrooms. Open-air cars have roofs and run from May through October.
Be sure to call before you go to check the schedule and times. Trains run from July through October. The train is pet-friendly, and Fido rides for free, so long as he/she is leashed and well-behaved.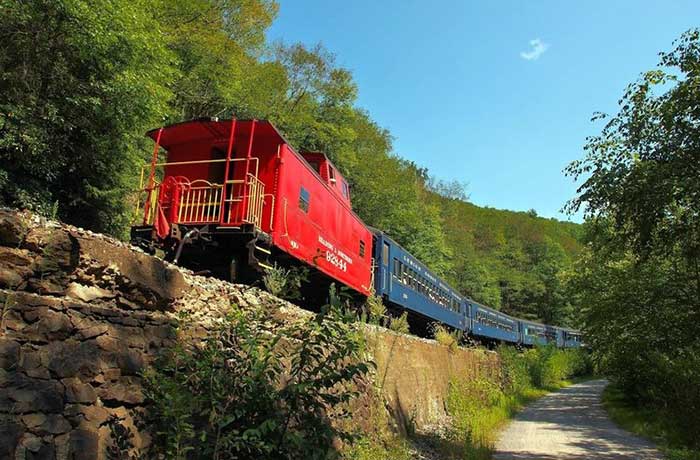 The train ride lasts about 70 minutes, round-trip. In October, trains run 45 minutes round-trip and it's super for leaf-peeping. If you want to see fall colors, plan your trip no sooner than the 2nd weekend in October.
Bring your bicycle on The Bike Train which takes you 25 miles through the Lehigh Gorge to the town of White Haven. Once you've reached your destination, cycle the Lehigh Gorge Rail-Trail back to Jim Thorpe at your leisure. The way back is all downhill!