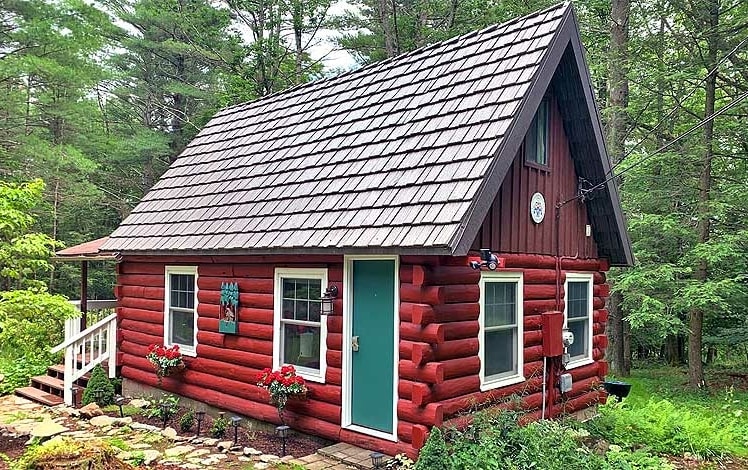 The Norwegian Cabin hosts 4 guests in 1 bedroom with 2 beds and 1 bath on 1.5 very private acres in a tiny Barrett town. OH NO this is SO CUTE! Lincoln Logs called and they want their cabin back!
The 1930s real California log cabin's interior has been refurbished in a 1940s Cushman style to enhance the rustic charm. The cabin is located on a private drive in a small, private community. It's a perfect spot for a laid-back getaway surrounded by nature.
This nostalgic one-bedroom red cabin is filled with Nordic-inspired decor, has a grill and a fire pit outside, and is situated on 1.5 acres of peaceful nature.
The cabin's main floor living area is furnished with WiFi and a new ROKU TV over a new electric fireplace, a new sleep sofa and Cushman maple end tables, round table and four chairs. The Cushman style maple china cabinet holds a 1940s "California Ivy" dinner set.
"We loved our stay at this adorable little gnome cottage! It was so cozy and instantly felt like home. It happened to be rainy and cold all week, so we were so grateful for the electric fireplace! The cabin has heat and AC as well, so it was perfectly comfortable. Plenty of windows and a great porch for watching nature. The furnishings were comfortable and we had everything we needed. We loved that we had total privacy, while everything we could possibly want was just two minutes away in the charming town of Mountainhome – restaurants, shopping, gas station, drug store, bank, grocery store, etc. Would definitely recommend!"