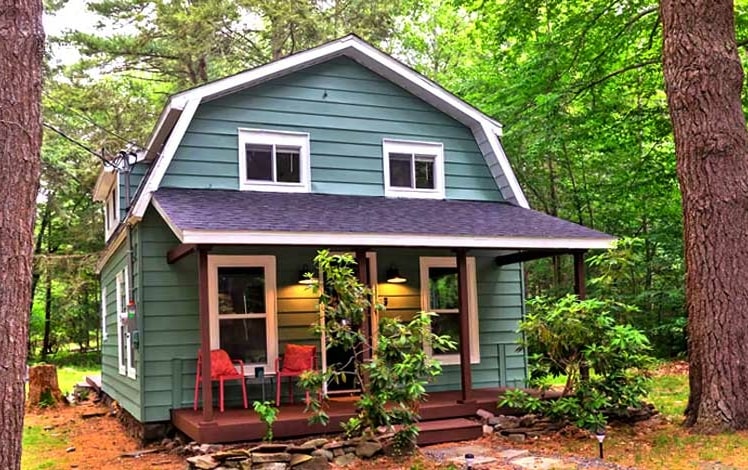 The Barn House Cabin hosts 6 guests in 2 bedrooms with 3 beds and 1 bath. This cozy home is located just a minute's walk from a path along a lake and is an ideal spot to get away. It boasts a huge yard, an amazing fire pit, an indoor fireplace, and just enough space to feel cozy but not cramped.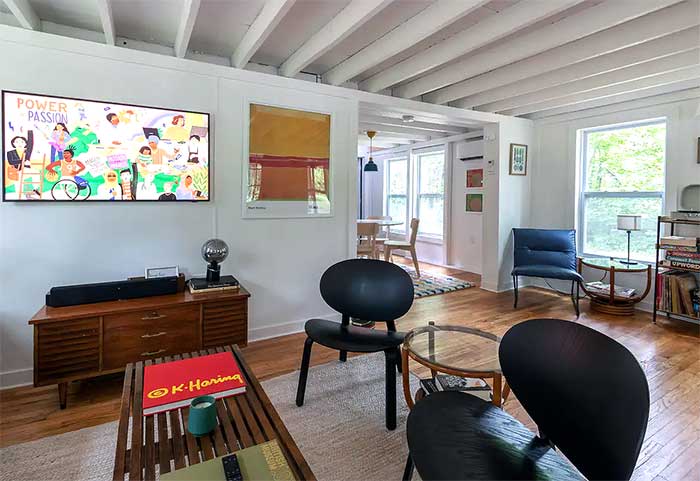 The living room is lounge ready with records, books, and a Samsung Frame TV. The dining area and kitchen are just around the corner and are ready for any level of chef to take the helm!
The three beds are located upstairs. One bedroom has a queen bed and a reading nook. Another has a king bed and dedicated workspace. The third bed is in the loft and is a day-bed trundle that exposes two twin mattresses when expanded.
Barn House Cabin sports a 50″ HDTV with Amazon Prime Video, Apple TV, Chromecast, Disney+, HBO Max, Hulu, and Netflix. There's a Samsung Bluetooth sound system.
"Josh's home in Pocono Lake is a gem! The entire house is beautifully decorated and gives off a cozy and relaxing vibe. It's very clean and organized. The kitchen was very well stocked with essentials which we love because we cook a lot of our meals when we escape to the Poconos! The bed was super comfortable! I slept so well every night of the stay because of how comfortable the beds were plus the area is quiet and peaceful. We brought our dogs and they loved the stay as much as we did! We will definitely be back to this wonderful little gem in the near future!"