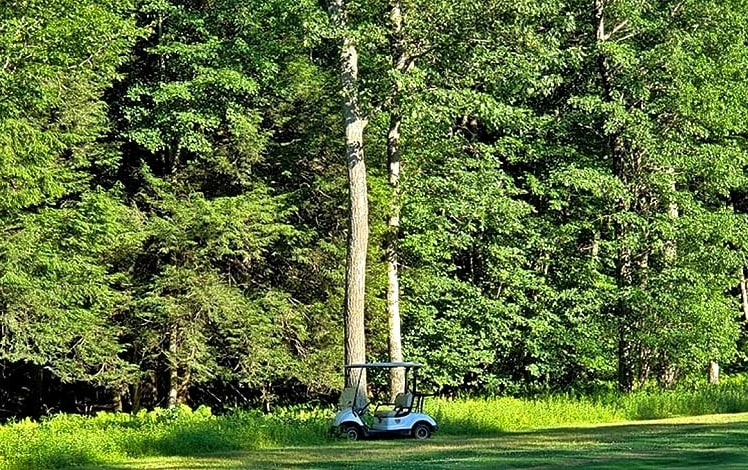 Stone Meadows Golf Course
Stone Meadows Golf Course is a modified links-style golf course nestled in the heart of Northeast Pennsylvania.
The layout is wooded and scenic and the atmosphere is relaxing during all seasons.
"A great opportunity to work on your short game with smaller greens and precise shot opportunities!!! A wonderful chance to see wildlife as well as we have seen deer, bear, and coyote on the course over the last year many times!"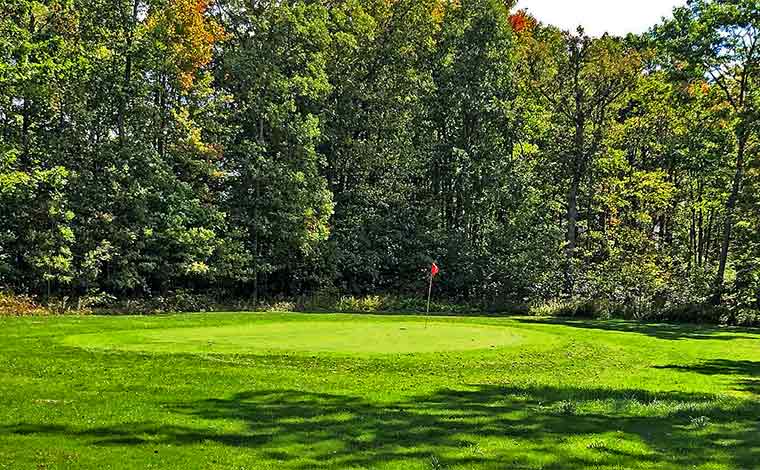 "If you are looking for a country club setting, look elsewhere. If you are looking for a challenging but fun round of golf check this place out."
Bourbon is the specialty at this lovely up-and-coming small-batch craft distillery and cocktail bar.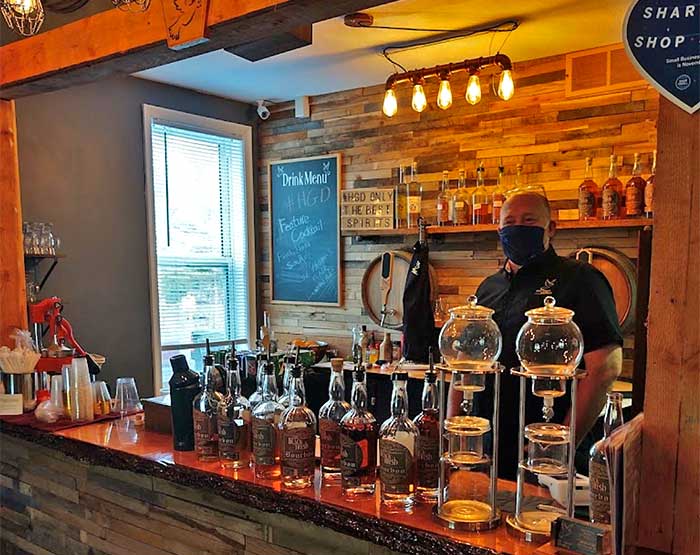 Cocktails include the St. Thomas Gingerbread Sour and McNamees High Rye Manhattan.
Seating is available inside the tasting room, or outside in the garden area. Weekend reservations are highly recommended. Holy Ghost Distillery also hosts events, such as food pairing events, classes, live music and more.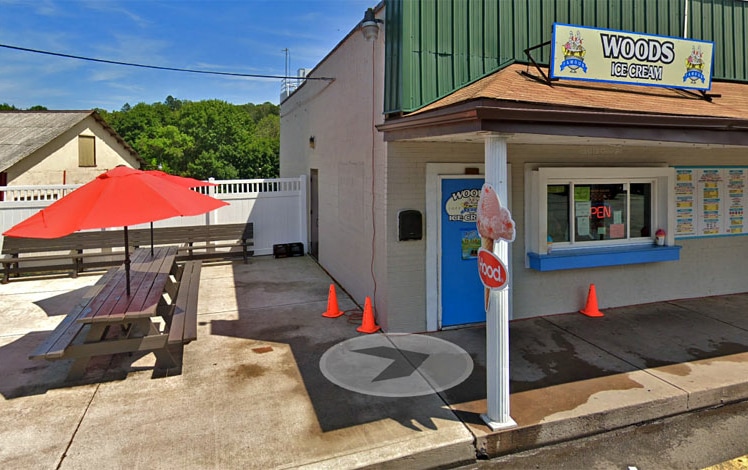 Woods Ice Cream White Haven
Woods Ice Cream White Haven has walk up serving windows, outdoor seating, and plenty of parking. Soft-serve, yogurt, ices, sundaes, floats, and doggie treats.
"The ice cream is delicious & there's lots of flavors to choose from. Whenever we're in the Poconos we always go for ice cream at Wood's. The staff is always friendly and the prices are resonable. They even have gluten free cones, and there are ice cream treats for your dog. I highly recommend Wood's."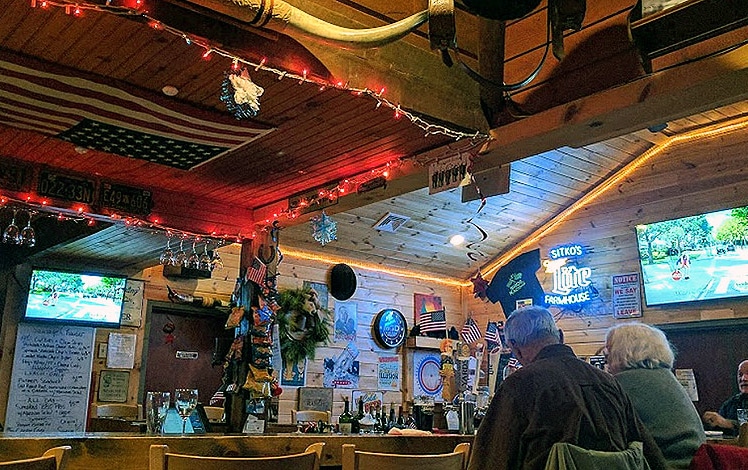 Sitko's Farmhouse
Sitko's Farmhouse is a cute little local bar with homemade cooking and country charm. It serves typical bar food, but it's all homemade.
The menu includes wings, nachos, burgers, and fries. Dinner entrees are comfort food platters; broasted chicken is their specialty. Sitko's Farmhouse meat is grass fed on Sitko's Farm.
Friendly vibe and service, sports on TV, and the beer is cold.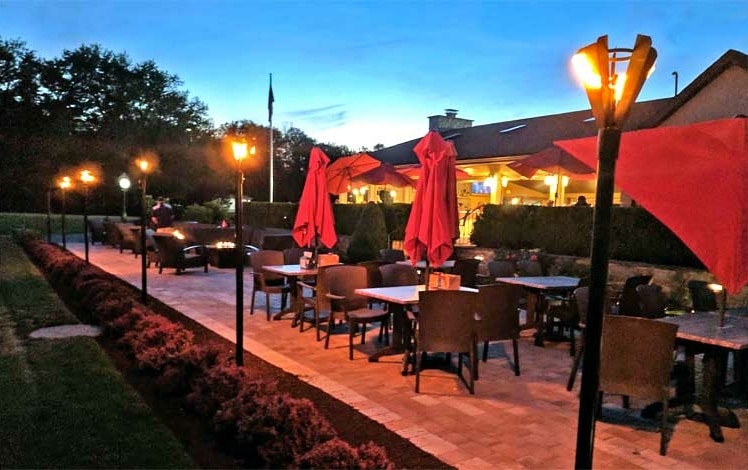 Jack's Grille
Jack's Grille is the casual restaurant/bar overlooking the green at Mountain Laurel Golf Club. Outdoor dining with fire pits and tiki torches on the patio. it's open from spring through October.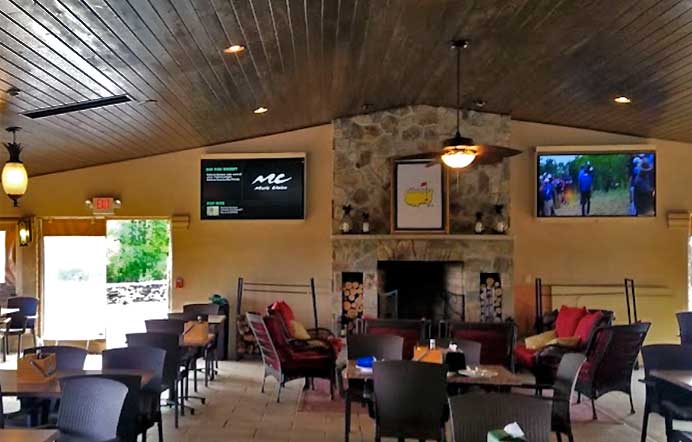 Wings, nachos, salads, sandwiches, burgers. Dinner entrees include fish & chips, a NY Strip, and shrimp scampi. Food is average. Best for drinks and snacks on the patio.
Jack's Grille offers a formal dining room, casual dining area, and a bar for all patrons. The remodeled clubhouse now offers beautiful views of the golf course.
Jack's Grille is easy to access from Interstate 80 and Route 534. Lunch is erved daily from 10am. The bar area is open daily from 10:00 am to provide bar service for golf customers.
"I golf here and always stop for an after golf drink and food. Appetizers, salads, sandwiches are great and reasonable. Very friendly staff. Always helpful. Beautiful views and nice outdoor seating!"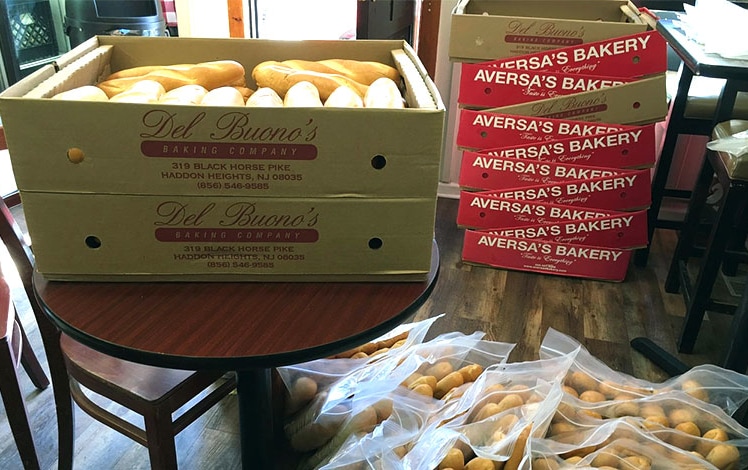 Renee's Cold Cut Hut
Renee's occupies a small storefront by a railroad crossing in the town of White Haven. They make subs/hoagies and get their bread from a bakery in New Jersey. Sandwiches are made of high-quality ingredients and the place gets great reviews. Cheesesteaks, soups, and deli meats. Take out only.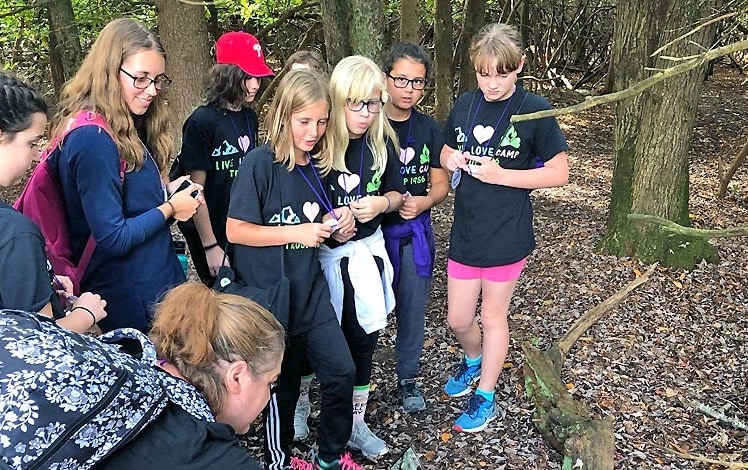 Camp Mosey Wood Girl Scout Camp
Camp Mosey Wood Girl Scout Camp is a Girl Scouts of Eastern Pennsylvania camp, a 425-acre beauty sitting in the Pocono Mountains. Adventure and water abound through this recently remodeled camp property.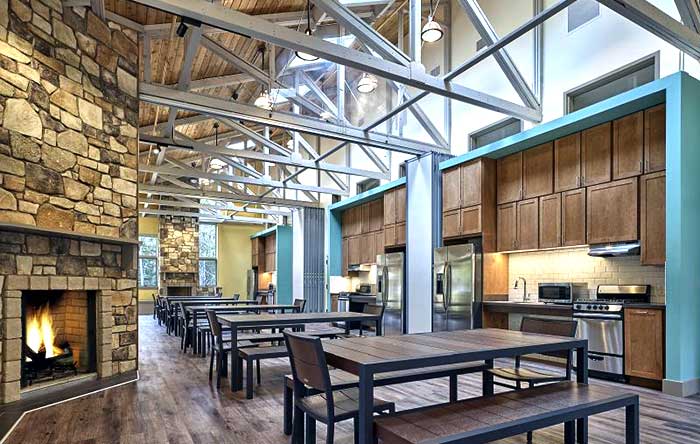 A thirteen-acre lake hosts plenty of room for boating including row boating, canoeing, stand-up paddleboarding, kayaking, and sailing. Mosey Wood Lake also hosts a plethora of activities including the AquaTower, a Wibit obstacle course, dueling-ziplines over the lake, and an AquaClimb climbing wall.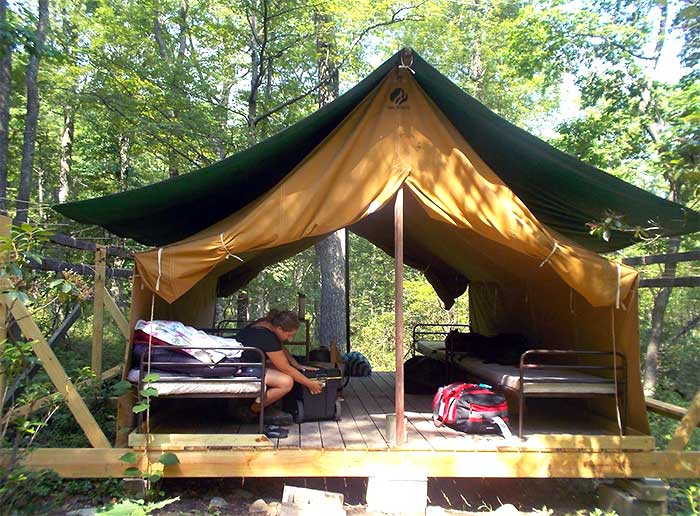 After splashing around, there is still plenty of adventure to be had, from bouldering to climbing walls to a low challenge course to a high challenge course. Traditional camp activities like archery, outdoor cooking, arts and crafts, and environmental education make up the weekly schedule.
Hey, parents: You're only a 3 or 4 miles from Louie's Prime Steakhouse. Stop in after you drop off the girls for Filet Mignon, NY Strip, Delmonico, Prime Rib, and more.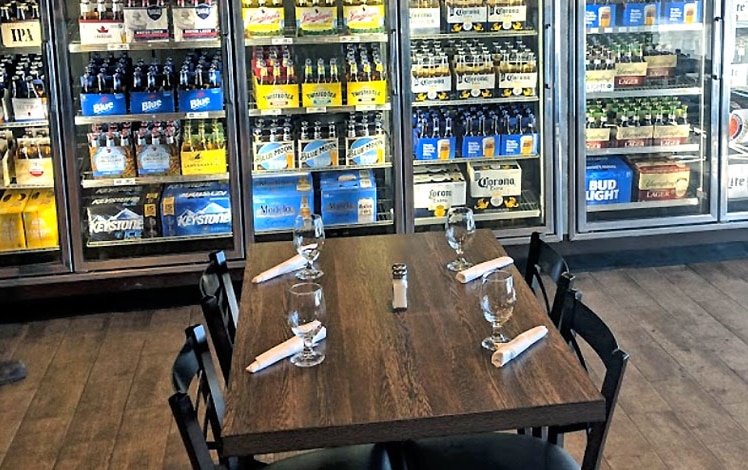 The Hangout
Big old barn of a bar attached to the White Haven Comfort Inn. Not particularly cozy, very average food includes wings, tacos, burgers. Oddly expensive.
Best thing about it is that there's a large variety of 6 or 12-packs to go, along with craft beers including IPAs. There's a game room with pool table and arcade games, televisions, and sometimes a DJ and a band. It gets noisy.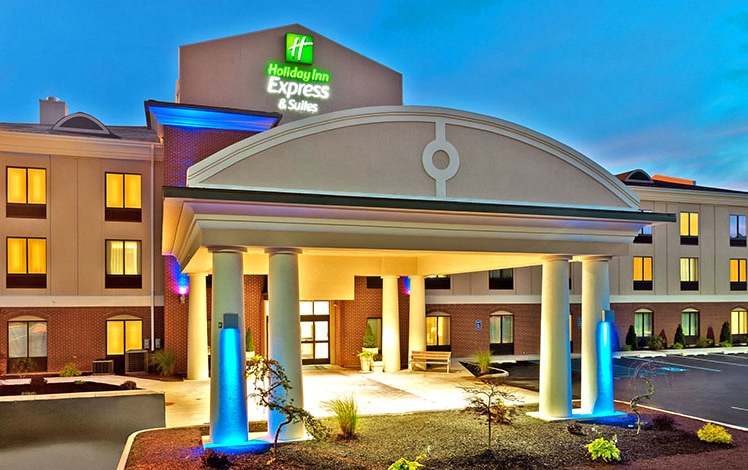 Holiday Inn Express White Haven offers 75 clean and modern rooms with a heated indoor pool, hot tub, and fitness center. Free breakfast bar and a breakfast buffet.
After a long day of business or sightseeing, take a swim in the indoor pool or relax and unwind in the whirlpool.
Close to Jack Frost and Big Boulder ski areas, Pocono Raceway, and Lehigh Gorge State Park.
Holiday Inn Express White Haven makes a great base camp for skiers or folks going to Pocono Raceway. Definitely the best (by a lot) of the chain hotels in the area.
"Stayed for a little getaway room was nice and clean could use a little update. Traffic from highway made it hard to sleep and walls are thin can hear people in next room."
"The hotel needs an overhaul. We were given the wrong room with 1 bed when I booked a queen suite. That was corrected quickly and appreciated. However, our room was dirty, with 2 towels for 4 people. A blanket I think rolled up and shoved or kicked into the closet and some pillows were thrown in. I assume it was for the sofa bed but didn't touch it to find out. The hot tub was broken. Breakfast wasn't stocked. No cinnamon rolls and hardly any bread no oatmeal in the large oatmeal cooker. No cheese omelets or bacon, pancake maker was broke or turned off completely and by reading the other reviews for 2 months ago seems like it hasn't been fixed. The breakfast area was gross food and crumbs everywhere. No one attending to the area. Seems like also other guests have complained about room cleanliness. I'd keep shopping for a different place to stay."
Eckley Miners' Village Museum
Eckley Miners' Village Museum highlights a restored 19th-century mining town created to house (mostly immigrant) workers and their families to provide a ready workforce for the anthracite coal mining business. For many years, the substance that fueled the Industrial Revolution was coal.
Note: Closed Monday and Tuesday starting October 1.
"You load sixteen tons, what do you get? Another day older and deeper in debt. Saint Peter don't you call me 'cause I can't go. I owe my soul to the company store."- Merle Travis, Tennessee Ernie Ford
The site maintains houses from small 3-room shacks to multi-story, Victorian mansions of the mine owners.
The site also maintains two churches, a rectory, a reconstructed company store, coal breaker, and museum store and exhibit area. Eckley hosts several events throughout the year, including the Eckley Car & Bike Show, the Haunted Halloween Lantern Tour, and the Eckley Christmas Experience.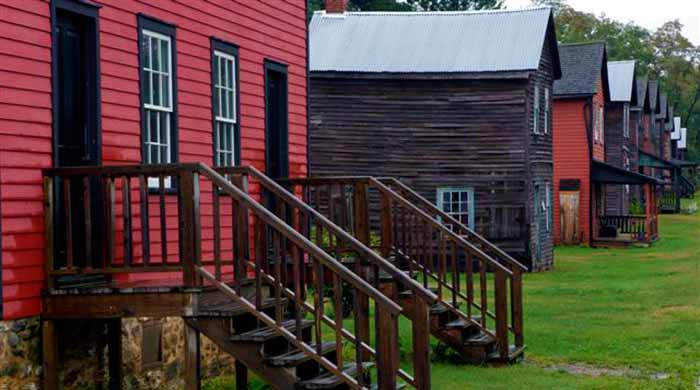 Eckley was a community, or coal "patch town," which provided mining families with the basic necessities such as housing and medical care, as well as basic amenities like a store, a school, and churches. Companies often designed and constructed industrial communities to house their employees in close proximity to the collieries, or mining operations, for which they worked.
Such mining towns were built to attract other mining families to live and work among the coal fields of northeastern Pennsylvania. The company greatly influenced the lives of its village residents and each family member faced challenges every day. The way in which they faced these challenges is the history of the region that is studied, preserved and interpreted.