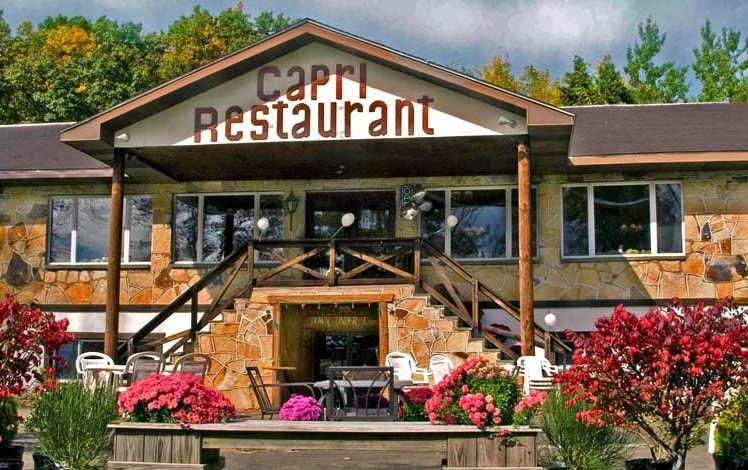 Capri Restaurant is a family-owned waterfront venue for traditional Italian eats, American steaks, pasta and seafood since 1958.
The restaurant was built and operated by Richard and Alice Fabri and aunt Helen, who brought her Italian recepies from Gubbio, Italy, and was head chef for 25 years. Jerry & Barbara Fabri are now continuing the family tradition.
Apps include clams and mozzarella sticks. They've got ravioli, lasagna, penne with vodka sauce, and linguine with white clam sauce. Meat includes rib eye steak, lamb chops, chicken or veal parm, and veal Calabrase.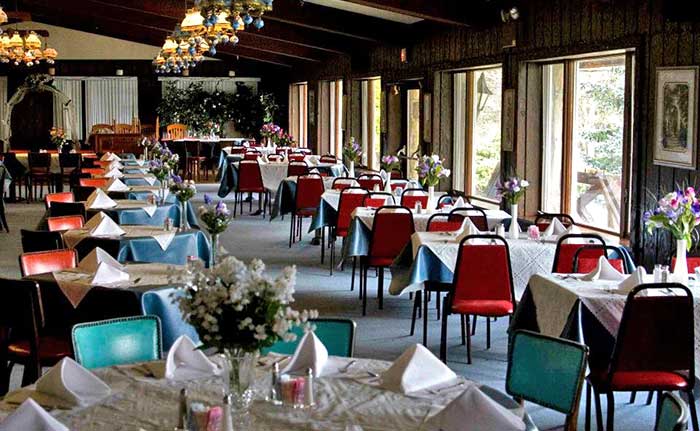 The restaurant is located on the shore of Lake Wallenpaupack overlooking Capri Marina, a 250 boat facility. They rent seasonal boat slips at the marina. Adjacent to the restaurant we also operate a 30 site campground for travel trailers and tent sites.
"We really enjoyed the place, food was exquisite (we were amazed), very fresh. Custumer service was excellent, they were very interested in providing good service and they really cared about how we were feeling! Definitely coming back next time we visit PA!"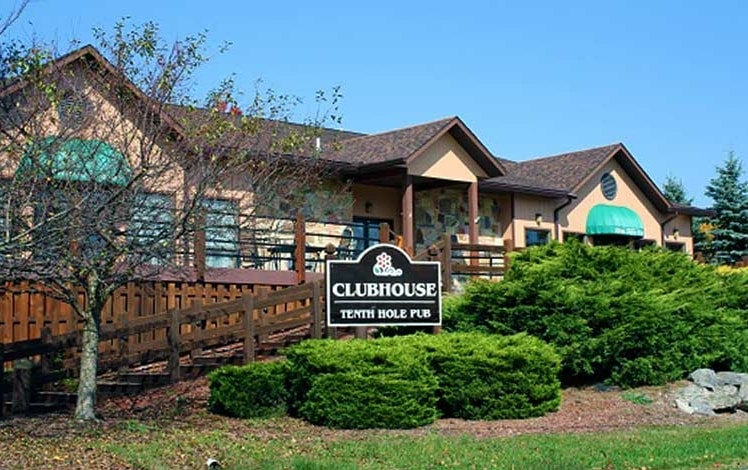 The Hideout Club House Restaurant
The Hideout Club House Restaurant offers a lovely dining room to sit back and enjoy a nice meal in a beautiful place. It is located directly across from the Hideout Golf Course in gated community The Hideout in Lake Ariel. The Club House provides a full menu, featuring steak, seafood, and chef special selections. It's a family priced menu with specials offered regularly.
Across from the dining room is a more casual dining experience, The Pub. Here you can find a lighter pub menu for a quick bite to eat. (Although the full menu is available here as well whenever the dining room is open.)
The Pub offers a full-service bar and food menu with flat screen TVs to enjoy all your favorite sports events in a cozy, friendly environment.
"My great-nephew and I had lunch today at The Clubhouse 10th Hole Pub. Not only were the Ruben and French Dip sandwiches delicious but plentiful as well. Their desserts are real yummy too — cannoli and cheese cake a must try. Our waiter Jack was most friendly and very attentive. Five stars plus all around. Since we're permanent residents, we'll be going back for seconds real soon. Thank you for a most enjoyable lunch."
31 Pocono Court is a lakefront paradise located on a private cul-de-sac in The Hideout, a four-season amenity-filled community in the Northern Poconos, just two hours from NYC and Philly. 6 bedrooms, 3 bathrooms.
129′ feet of amazing lake frontage with a private beach area, cabana, lakeside kitchen and patio area, lakeside deck, boat and jet ski docks, hammock area, 6 bedrooms, 3 beautiful bathrooms with tile and stone, a living room with high ceilings, wooden beams, hardwood floors, brick fireplace, large sunroom with access the expansive deck.
Finished lower-level bonus room, built-in garage and a separate 'Ferris Bueller' garage. Looking for the ultimate lake life experience? Bring your powerboat and have a ball. This just may be the house for you!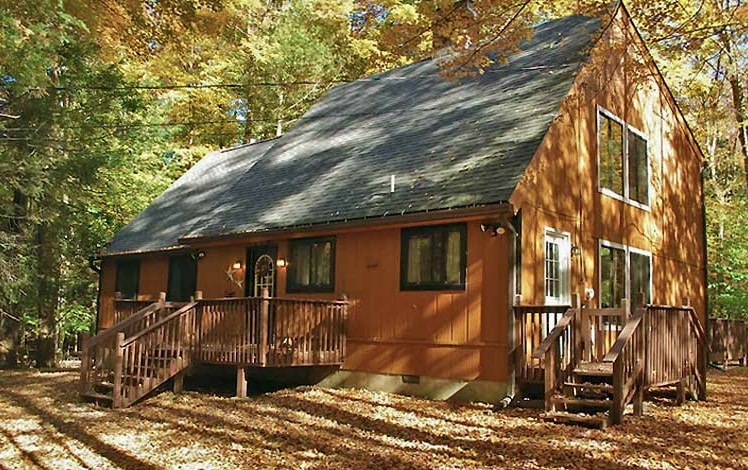 The Chimney House is both a rustic and modern family retreat in The Hideout, a resort beach/pool/golf/tennis community next to trendy Honesdale and Hawley. 4 bedrooms and 2 baths.
The back deck, side and front porches, and surrounding yard let you be right in there with nature. Leave the house for the Hideout's recreational sports complex, golf course, tennis courts, two beaches, two outdoor pools, a physical fitness center, mini-golf, art center, a woodworkers building, and even a ski lift, lodge, and tubing run for winter months.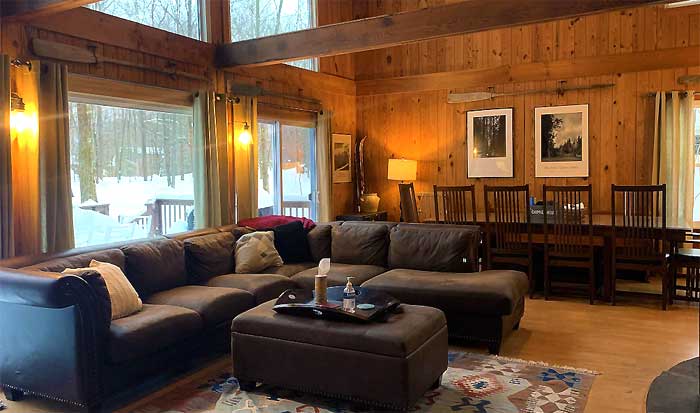 You'll want to bring beach towels and grab your own firewood while you're there. Some firewood is provided, and your hosts will let you know where to pick up more. Bring a fishing pole for Roamingwood Lake, Deerfield Lake, and Brooks Lake. Don't forget your tennis racket and golf clubs!
There are six lakes in the Hideout. Deerfield Lake is 16 acres, and Brooks Lake is eight acres. Both lakes are reserved for fishing and non-power boats.
225-acre Roamingwood Lake is the largest lake in the Hideout. It has a marina and plenty of water for power boats, jet skis, and wave runners. There is also water skiing, sail boating and sandy beaches for swimming.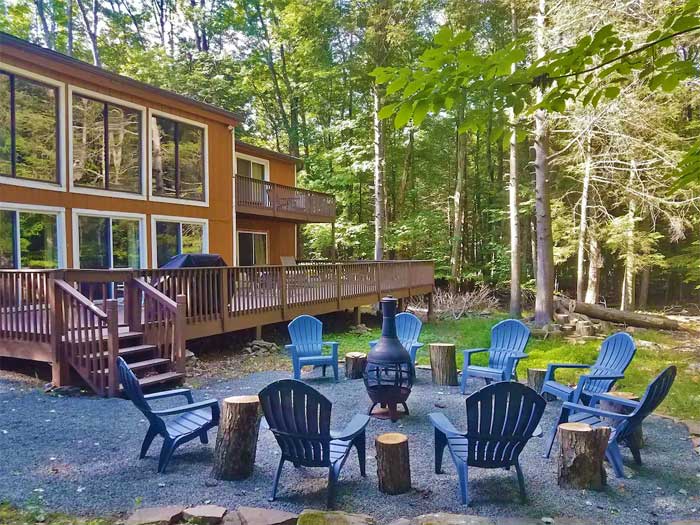 You're just 12 miles from Dyberry Forks, a fantastic casual fine dining in a chic room with seasonal farm-to-fork cuisine and a craft cocktail list.
"A great experience for a time away in a very beautiful location. There is ample seating space at the table and sleeping space. The open concept living room really lead to wonderful stay! Highly recommended!"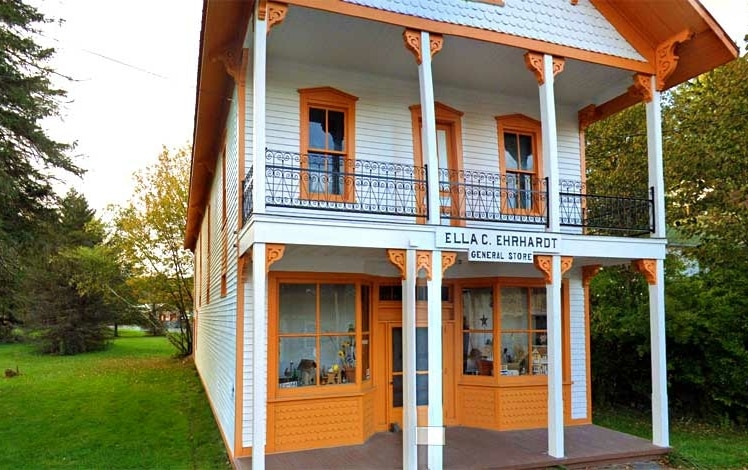 Ella C. Ehrhardt General Store
Ella C. Ehrhardt General Store sells penny candy and a dizzying array of general store stuff. Tons of baskets, signs, figurines, and tons of randomly selected…stuff. They're open from spring until the beginning of November.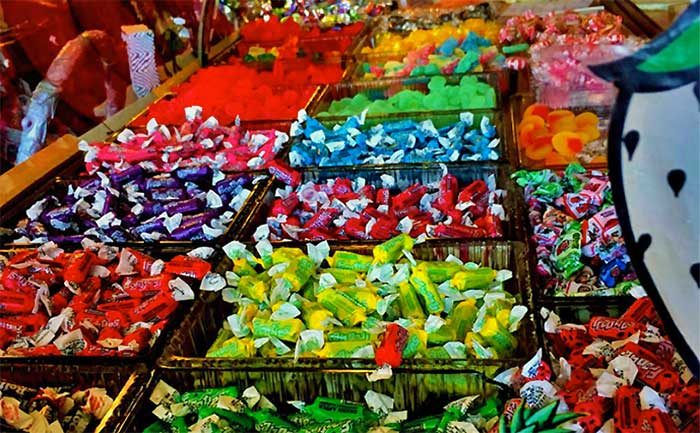 According to the Wayne County Historical Society, the store was founded in 1860 by Frederick A. Ehrhardt. "The store's ceiling is most unusual; it contains pieces of wood arranged to form geometric designs. Display cases have a wide array of merchandise, including penny candy. The building has the Greek Revival influence with its front-gabled form and second-floor pediment doors and windows. The two-tiered porch is supported by simple supports."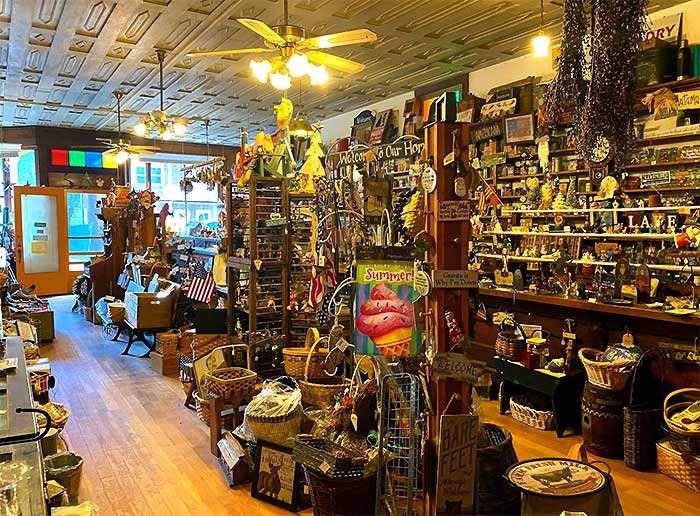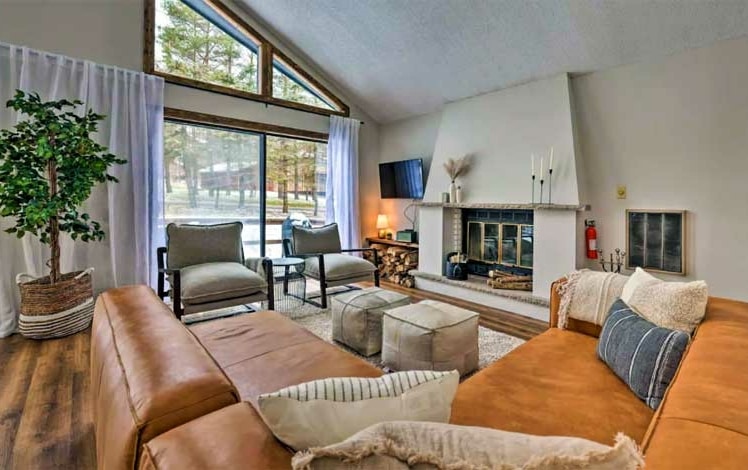 A Blind Pig Lake Ariel is a luxurious 2,000 square foot cabin in The Hideout, a charming gated community built around the lake. Escape to the Pocono Mountains and book your stay for up to 12 guests at this Lake Ariel vacation rental.
The cabin boasts 5 bedrooms, 2 bathrooms, 2 living spaces, vaulted ceilings, and has been updated with a beautiful modern interior and sleek decor. You'll have a private balcony with outdoor seating, a deck, outdoor dining, a charcoal grill, a fire pit, and a hammock.
Inside you'll find a smart TV, wood-burning fireplace, and vaulted ceiling, and plenty of books and board games.
Bring your swimsuits and sunscreen to experience summer days spent out on the water, or practice your swing on the The Hideout Golf Course. During the colder months, take a dip in the heated community pool, then end the day gathered around the fire pit with hot cocoa.
Bedroom 1: Queen Bed | Bedroom 2: Queen Bed | Bedroom 3: 2 Twin Beds | Bedroom 4: Queen Bed | Bedroom 5: 2 Full Beds | Additional Sleeping: Pack 'n Play
The Hideout offers 24-hour security, a gated entrance, clubhouse, lodge, 250 acres of pristine woodlands, a 9-hole golf course w/ 2 restaurants, 2 heated outdoor pools, basketball courts, indoor/outdoor tennis courts, 2 sand beaches with lifeguards, 2 lakes, a physical fitness center (some amenities will require additional fees – paid on-site).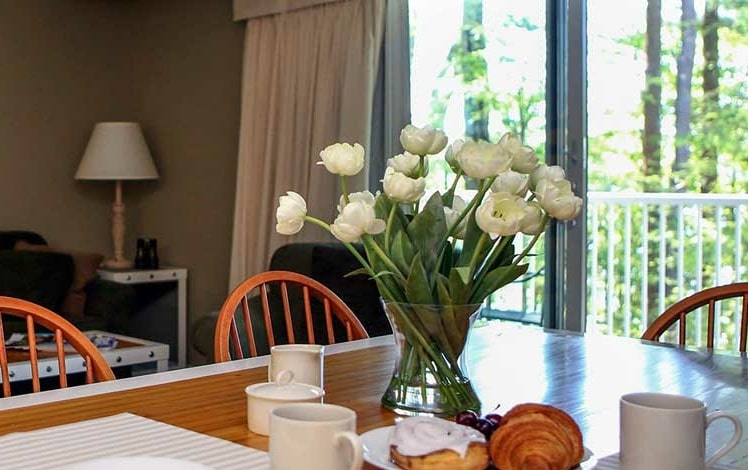 The Retreat at Millbrook Cove features 16 rental units on the shore of Lake Wallenpaupack. The property is part of Silver Birches Resort, which is located just five miles away. You can walk to the shoreline of Lake Wallenpaupack from your suite. There are boat slips for rent at the complex depending upon availability. Enjoy other water amenities accessible at Silver Birches Resort.
The Suites at the Retreat are seasonal and can be rented from May 11th until October 31st.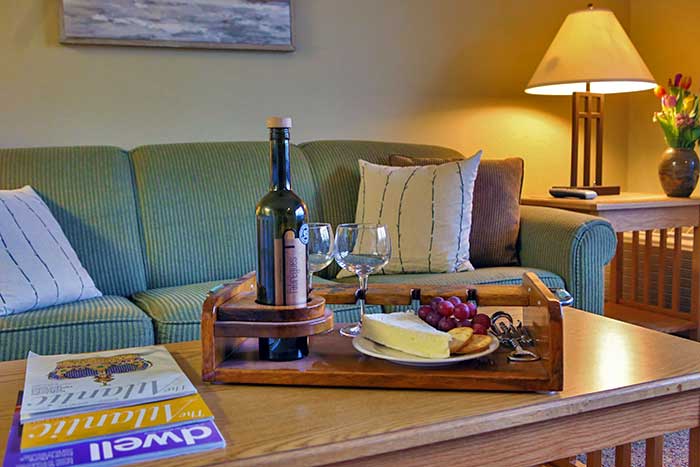 The Retreat consists of one and two-bedroom suites with views of the lake. Each suite features living and dining room spaces, a fully equipped kitchen, and a private lakefront balcony. The home-like environment makes it an ideal spot for extended stays, group trips, family vacations, weddings, and more.
Guests can enjoy the privacy and seclusion of a vacation rental, yet still have full access to resort amenities and facilities. All guests have natural lakefront access as well as the use of kayaks and paddleboards. You'll also receive two breakfast vouchers for The Dock on Wallenpaupack for each day of your stay.
There are eight accommodations that are dog-friendly at The Retreat; both one-bedroom and two-bedroom suites. You must call to see if these units are available. Dogs are not accepted on the property without prior approval. There is a $100 fee for the pet and there will be a cleaning fee if there is an issue with the unit caused by the pet.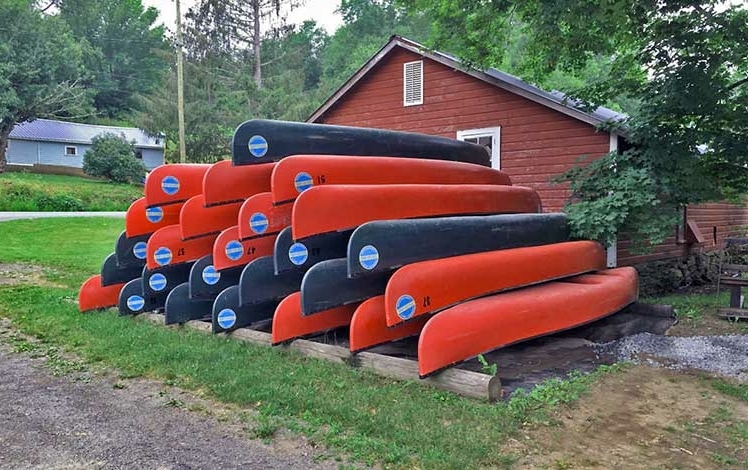 Soaring Eagle is a small family-run and owned campground on the Upper Delaware River. Enjoy the natural, peaceful beauty of the scenic river, winding through the Pocono/Catskill Mountains of Pennsylvania and New York. Sites are spacious and prices are fair. There are lots of riverside sites.
The campground is situated on the Delaware River and provides great access for kayaking and tubing. The campground offers canoe, kayak, and tube rentals.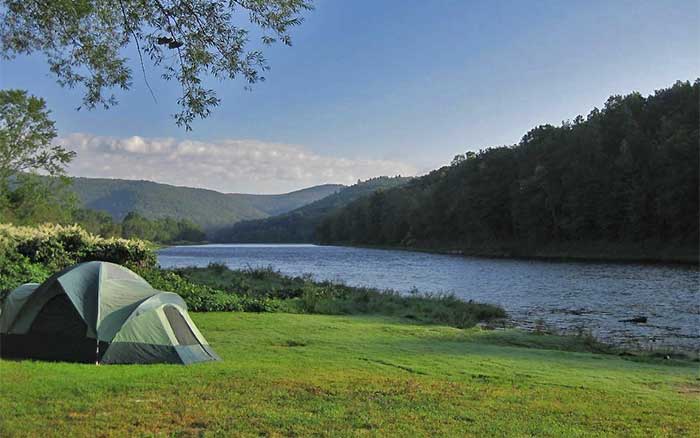 There are about 50 campsites, with various amenities. Some have AC and water, others do not. Fire pit and picnic tables are provided. There is a bathroom facility with showers and dishwashing sinks. Some campsites are on the water, others are in the woods. The facility has canoes, kayaks, and tubes available for rent and will bring you up the river.
"This is one of my favorite campgrounds. The best part about this campground is it's small! It feels more laid back, more peaceful, especially since our tent site was right by the creek! The sound of the creek helped me sleep. We had to drive through the creek to get to our spot which was really cool! The staff is super friendly. They let us check in late (it took us 4 hours to get there from South Jersey). They have canoe and kayak rentals. The campground is just so well maintained. It's not like those "commercialized" ones that have a million people and you're on top of each other's site. We will definitely be going back. I highly recommend this place."
Fishermen love this campground. It's located right on the Delaware River just above the famous Kellam's Bridge. You can catch the shad running in the early spring. We have some of the best fishing along the river; with scrappy, smallmouth bass, trout, and walleye. Easily travel up or down the river for better fishing spots.
Enjoy the privacy and tranquility of the river, with room to breathe! You will marvel at the wildlife that is natural to the area. You may even spot a soaring eagle or two that nest nearby
"The sites were amazing and clean. The scenery was beautiful. They have vans that will take you upriver and you can float or kayak right back down to the campsite. No tube? They rent tubes, tube coolers (very important), canoes, and life jackets. The staff they have are super nice. We had an amazing time. I would recommend this place to anyone!"
The Upper Delaware area has been preserved and unspoiled by the families that have lived on the river for centuries.
You're just 9 miles from Equinunk General Store where you can enjoy homemade breakfast and daily lunch specials and Saturday barbeque. Their grocery stock includes locally produced food. Cheese from Calkins Creamery and ice cream from Creamworks Creamery. Penny candy, too! The View Saloon is a fun dive bar in Equinunk and a hangout for area campers. Burgers, sandwiches, and a pool table.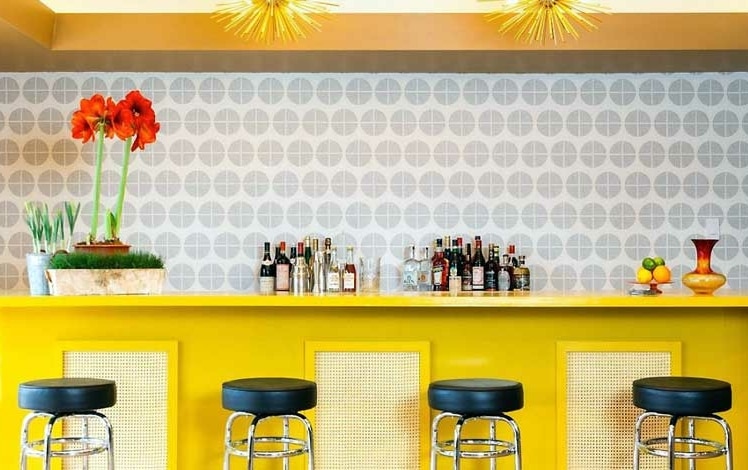 Bar Delphine at Hotel Darby
Bar Delphine at Hotel Darby is a reimagined mid-century-style bar with cocktails, wine, and a menu of light snacks.
The menu includes sardins, mussels, and tuna belly, with snacks of potato chips and olives.
Bright colors, rattan textures, and sputnik light fixtures make The Delphine at Hotel Darby impossible to miss. A fun and comfortable gathering place for all.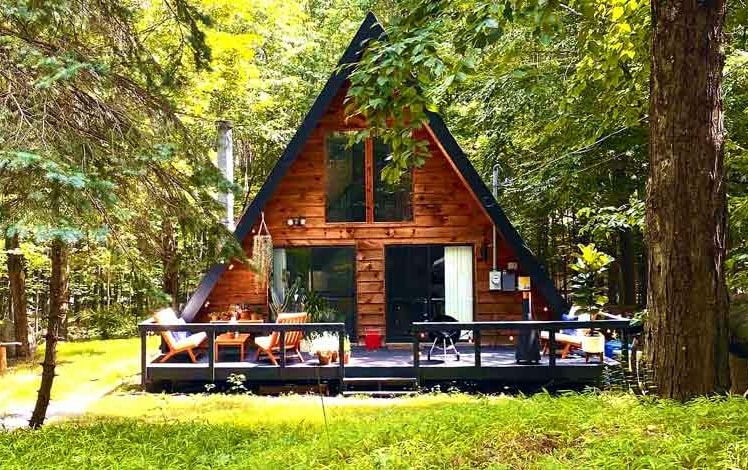 This little A-frame is a mid-century dream nestled among the trees and a short walk away from the lake in the gated community The Hideout.
3 bedrooms for up to 6 people, a full chefs kitchen with hardwood teak countertops, a double farmhouse sink, a dishwasher, and a Nespresso machine. The kitchen's got a mixer, cookie sheets, great knives, and even a rolling pin. The dining table seats 6 people.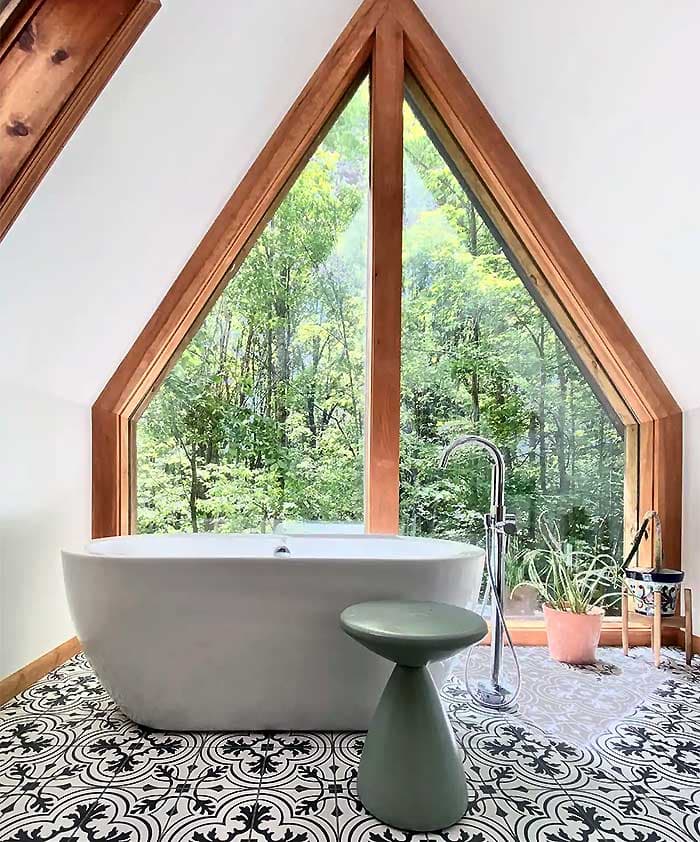 There are thermostats and vents in virtually every room for very good climate control. People LOVE the bathtub!
"I finally understood why house rentals can surpass hotels. The beds and bedding are spectacular, memory foam, real goose down, etc. It feels high-end while also feeling old school, thanks to the carpet on the stairs and the record player. If you've stumbled across this listing and you think it checks the boxes, just book and know everything will work out. I even got legally married while I was there, so it had every opportunity to let me down, but it didn't. Samantha is at the very highest level of hosting, she treats the place as if she's hosting family, and I can't recommend this property enough. Thanks again."
The community offers some great amenities, from the 2 lakes and 2 pools, tennis, volleyball, mini-golf. They even have a tiny ski hill and lift! There is a sauna in the changing room, basketball courts, and a golf course.
You will be given membership passes by the community upon arrival. All guests will be registered with the community and guests must check in with the Hideout upon arrival where you will get individual amenities badges and car passes (the community is gated). A renters form will be emailed to you to fill out prior to your trip this is necessary to gain entry to the community.
Pools are outside and are only open in the summer months. Lake and beach areas are open year-round. Try your hand at some ice-fishing!