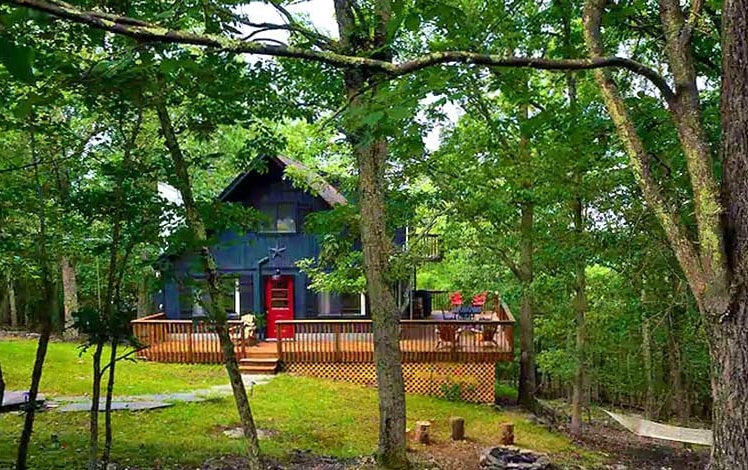 Tree Top Chalet is set near the Delaware River at the top of a hill in a private setting with lots of space. This airy getaway feels like a modern treehouse with a large wrap-around deck surrounded by the woods. It's in the gated luxury Masthope Mountain Community, just around two hours from NYC and 3 hours from Philly.
It's an open-concept cabin with a fireplace, modern kitchen, three bedrooms, and 2 bathrooms, a loft reading area, a balcony off the master, outdoor dining on the large porch, a gas grill, a fire-pit, and more. A large wrap-around deck opens to the woods, offering quiet and privacy.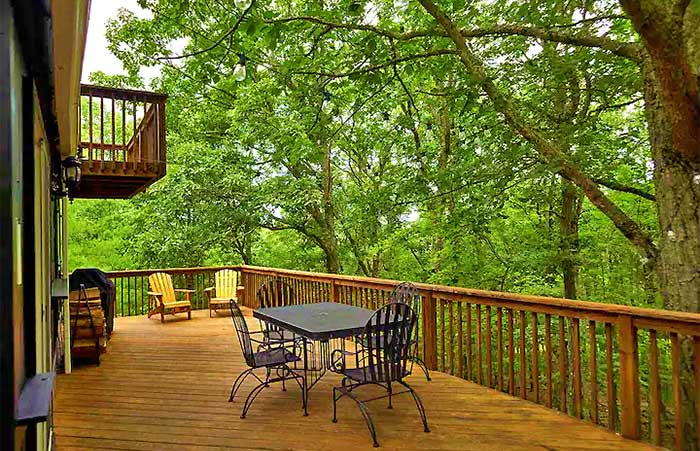 For registered guests, the community offers a pool, the beach at gorgeous Westcolang Lake, volleyball courts, bocce ball, horseback riding (trail rides, indoor arena, and petting zoo), a gym, river access, playgrounds, picnic and barbecue areas, fishing, mini-golf, and more.
One note: the closest supermarket is 30 minutes away, so it's best to bring the groceries with you (Tho you can pick up lots of basic stuff at the Marketplace at Masthope.) Stop in for a bit at Summit Restaurant, Masthope Mountain's joint with its own tiki bar.
It's a 5-minute drive from the ski slopes at Ski Big Bear.