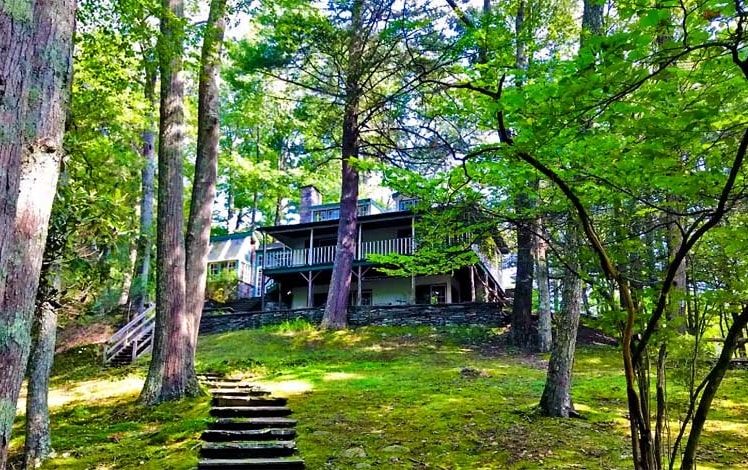 The Cottage at Bluestone Falls
The Bluestone Cottage is one of three guest houses on 16 park-like acres including The Victorian. It's nestled into the woods, running along the scenic Bushkill Creek near the Delaware River. All 3 houses are set quite far apart on the property and offer the perfect amount of privacy.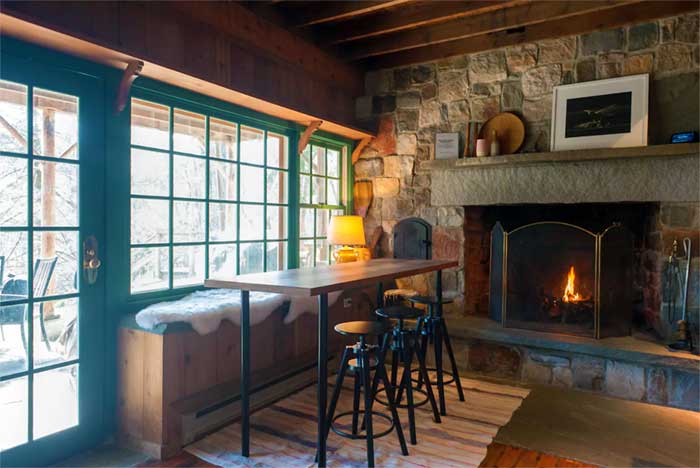 The cottage has 2 charming bedrooms with queen-size beds and a large sleeping loft that is great for kids. The second floor has two bedrooms with very comfortable memory foam beds, and an amazing sleeping loft with 3 beds, great for children. There are 2 stone fireplaces and a lovely kitchen. The massive porch is the perfect place to relax or take in the view of the river and waterfalls below.
"My family had a wonderful stay at the cottage! The property was furnished with everything we needed to be comfortable (many items in the kitchen for cooking, linens, even board games! The cottage is idyllic—secluded but still relatively close to neighboring towns. We spent most of our time out on the porch or at the water & sauna. The hosts were amazing and they thought of everything in advance – this is a very special place!"
Your hosts are available by text or phone at all times. They may be staying on the property and are equally happy to leave you to yourselves or share coffee or a cocktail by the waterfall.
Millrift is located at the intersection of Delaware Drive and Bluestone Boulevard on the west bank of the Delaware River northwest of Matamoras. It's a tiny community in Matamoras, right off the Delaware River that offers many activities from rafting and canoeing, hiking, cross country skiing, fishing, antiquing, dining, and more.
You're just a few miles from the lovely dinner house Two Rivers Grille or from Stewie's for burgers and comfort food. Both are in the town of Matamoras.