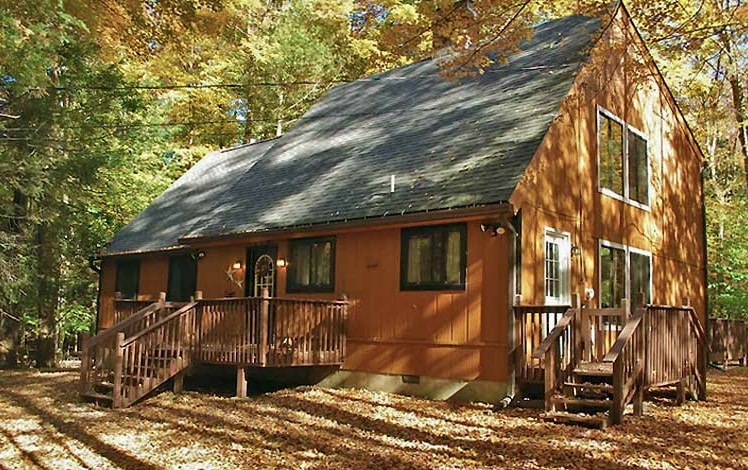 The Chimney House is both a rustic and modern family retreat in The Hideout, a resort beach/pool/golf/tennis community next to trendy Honesdale and Hawley. 4 bedrooms and 2 baths.
The back deck, side and front porches, and surrounding yard let you be right in there with nature. Leave the house for the Hideout's recreational sports complex, golf course, tennis courts, two beaches, two outdoor pools, a physical fitness center, mini-golf, art center, a woodworkers building, and even a ski lift, lodge, and tubing run for winter months.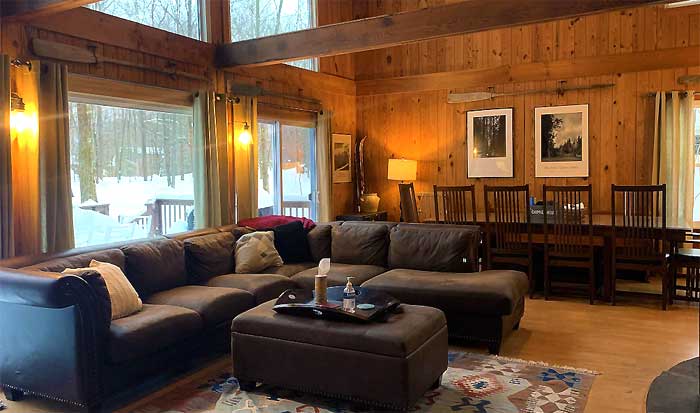 You'll want to bring beach towels and grab your own firewood while you're there. Some firewood is provided, and your hosts will let you know where to pick up more. Bring a fishing pole for Roamingwood Lake, Deerfield Lake, and Brooks Lake. Don't forget your tennis racket and golf clubs!
There are six lakes in the Hideout. Deerfield Lake is 16 acres, and Brooks Lake is eight acres. Both lakes are reserved for fishing and non-power boats.
225-acre Roamingwood Lake is the largest lake in the Hideout. It has a marina and plenty of water for power boats, jet skis, and wave runners. There is also water skiing, sail boating, and sandy beaches for swimming.
You're just 12 miles from Dyberry Forks, a fantastic casual fine dining in a chic room with seasonal farm-to-fork cuisine and a craft cocktail list.
"A great experience for a time away in a very beautiful location. There is ample seating space at the table and sleeping space. The open concept living room really lead to wonderful stay! Highly recommended!"