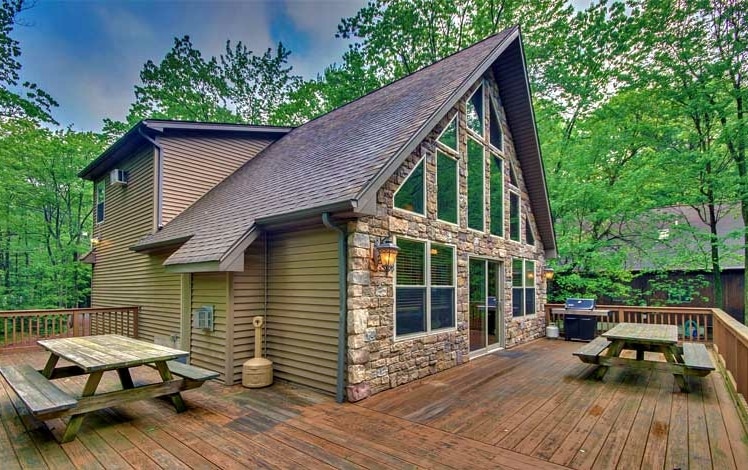 Moose is a stunning 6-bedroom, 3-bath property in lovely Lake Harmony that's designed to comfortably sleep up to 17 guests. It's dog-friendly, too.
There are two living areas in this home. The first one is located just steps away from the dining room table and features plush sofas covered in soft fabric, a stone fireplace, and a 55-inch Smart TV hanging over the mantel. The second living space is located downstairs and is also a great entertainment area; a regulation-sized pool table dominates the space, and an old-school Multicade arcade game is tucked away in the corner. Another large television and stone fireplace make this area one of the most popular spaces in the house.
The spacious kitchen containing updated appliances is open to the rest of the house. The oversized granite peninsula ensures there will be plenty of room for all the dishes created! Seating options for dining include a large table surrounded by 10 chairs, overflow seating at the peninsula which fits three more guests, and outside on the wood deck that surrounds the upper area of the property, two full-size picnic tables to be enjoyed on beautiful summer nights!
"This is the 7th year our group of 10 college alums has met at the Moose to enjoy a weekend to reunite and enjoy the Lake Harmony area. The Moose is central to all things in the area and the house is in great condition with plenty of room for a comfortable stay. Management is excellent to work with and I would recommend The Moose (and Pocono Mountain Rentals) to all who are interested in a wonderful house rental experience."