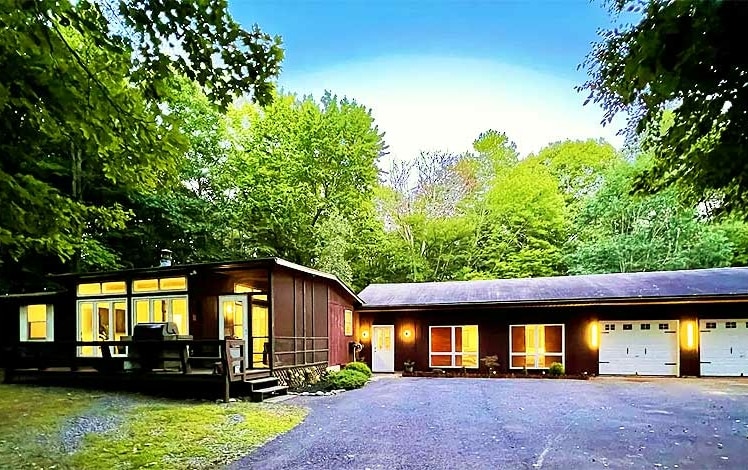 This Lakeville Lakeside Home is on a 5-acre wooded lot with all the amenities necessary to get away from busy city life. It hosts up to 10 guests with 5 bedrooms, 5 beds, and 2.5 baths. Bedrooms have dedicated closets and individual bathroom spaces. The mountain breeze and the lake surround you with no sign of neighbors.
The house has undergone renovation with an oversized heated pool and a 2000 square-foot deck with a hot tub. Bring Fido!
What with the $$$ – $$$$? Seems that prices are lower in the winter than in the summer. Check with your host!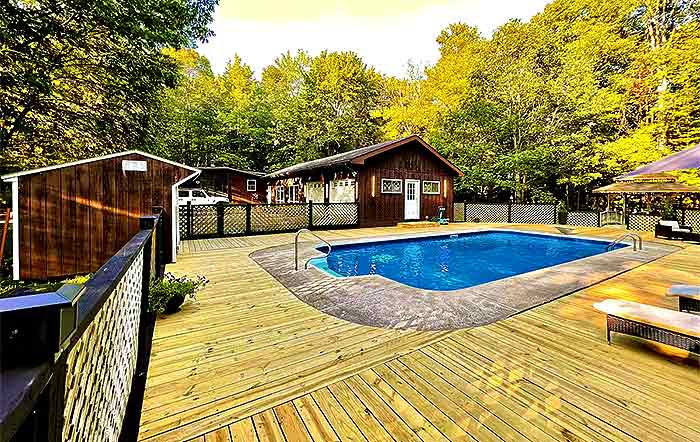 The front deck has a grill ready for a perfect weekend BBQ. The grill is a Weber Summit equipped with sear burners and a rotisserie motor for a true cookout.
The 65″ HDTV comeswith Amazon Prime Video, Disney+, Fire TV, HBO Max, Hulu, Netflix, and Roku.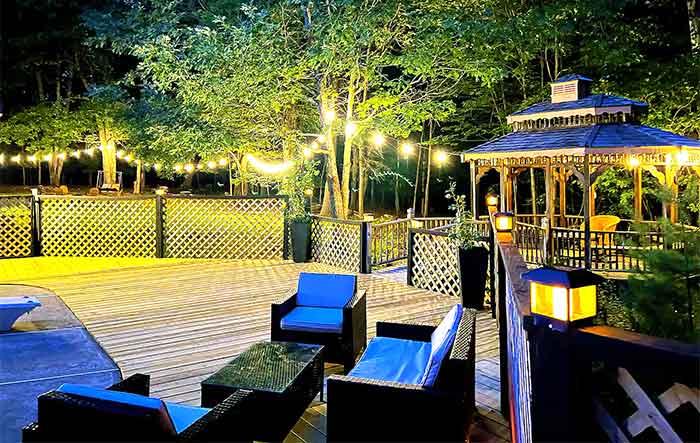 A farmhouse kitchen with butcher block countertops welcomes all chefs to entertain and enjoy intimate moments inside the open living space. A catalytic wood burning stove keeps the space warm and cozy during the cold season. The living space opens up to a plush green yard with a fire pit that can also be used for grilling on the open fire during the warmer season. On the opposite side of the living room there is an additional outdoor dining space in a screened porch with a vinyl record player and games.
It's only five minutes from Lake Wallenpaupack, the largest motor lake in the Poconos. Your hosts own motorboats and jet skis and say "if you want to enjoy the lake life do not hesitate to reach out."
"The house was absolutely beautiful, just like the pictures. It was filled with high-tech devices and Alexa-operated. With all the innovative touches, the home still feels so homey with the fireplace and cute lighting. The pool was a great addition to the house, even in negative temperatures you could get a swim in. The hot tub was incredible with snow all around. We travel as a family every year and this was the best experience by far overall. Thank you for helping make our holidays magical."