Chestnut Cabin in the Woods
The Chestnut Cabin in the Woods hosts 3 guests with 1 bedroom, 2 beds, and 1 bath. The cabin is down a wooded path and very private, although there are other cabins nearby. This one-of-a-kind cabin borders the Delaware Water Gap National Recreation Area. Hike through the woods to Dingmans Creek right behind the cabin.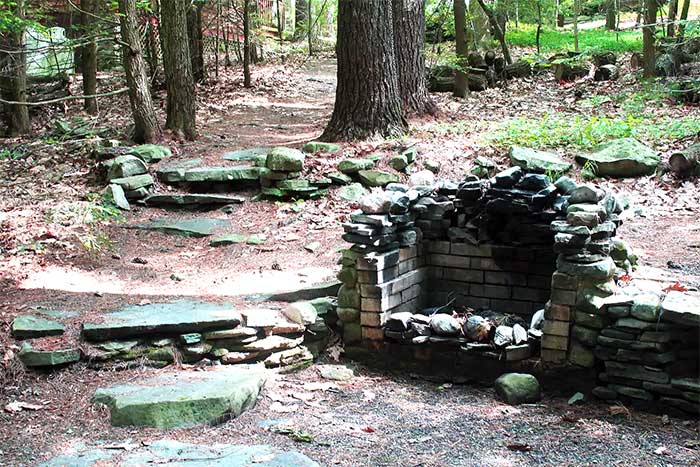 The cabin is super clean and super comfortable. A queen size bed in the back sleeping loft has a magical view of the forest. Opposite is a cozy office space with an inviting daybed. Relax on the living room couch with a sliding glass door view of the woods and deck. The cabin has a kitchen and bathroom with a rain shower (great water pressure). The space is open (the only interior door is in the bathroom) with a view of the woods in every direction.
Note: There's a tiny fridge in the kitchen, but there's a large fridge in the basement. The entrance to the basement is from outside the cabin.
This is a wonderful and relaxing spot to enjoy nature. Lots of hiking, biking, fishing, boating, and swimming are nearby. The historic town of Milford is close by with its antique and specialty shops, bakeries, dining, and music. Or just park the car and nestle in with a campfire or a book on the back porch. An hour and a half from NYC, but a world away.
Note: You NEED an AWD for the winter months. Summer is just fine for your car.
"This was the best airbnb stay I have had to date. The cabin itself was even cuter than it appears in the pictures, and situated in a beautiful area. It felt like we were in a fairytale! Very importantly, it was also spotless! If you wanted to venture out, the cabin is only about fifteen minutes from Milford, PA, which has a fun little downtown area. Susan left a binder complete with all sorts of recommendations in the area, ranging from restaurants, bars, boutiques, hiking trails, and historic sites. I wish we had stayed longer to visit and try more the places. Susan answered all questions we had and was very thoughtful to even provide us with slippers, fresh towels, toothbrushes, and toothpaste. She was a wonderful host! I plan on returning for another peaceful getaway."