Tyler Hill Camp is set on a magnificent 220-acre campus just two hours northwest of New York City. Tyler Hill features two large private lakes, a heated Olympic-size pool, unsurpassed athletic facilities, a professional nine-hole golf course, and twelve championship tennis courts.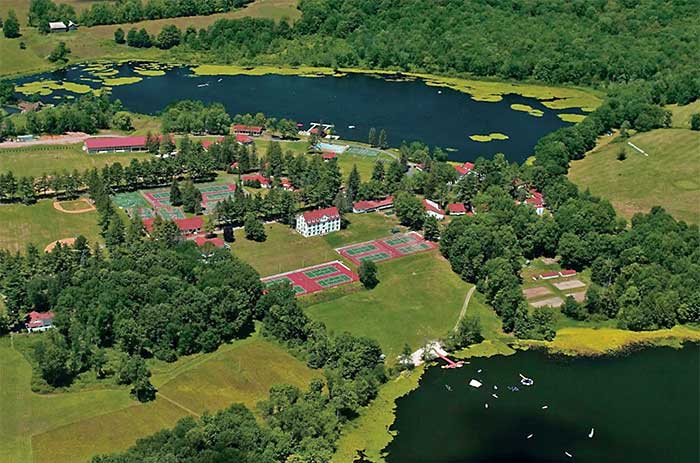 Tyler Hill Camp is equipped to manage unique dietary requirements for campers with food allergies. The chef prepares three daily meals and all daily snacks in a separate kitchen to accommodate all campers' needs. They are completely peanut and tree nut-free, and do not serve any items "made in a factory" or that "may contain nuts."
Tyler Hill Camp's daily program is also packed with opportunities for fitness and exercise, from a brand new state-of-the-art fitness center and indoor cycling/spin studio. Fitness classes, Zumba, martial arts, and MMA programs are daily options for campers and are always fun and unique. Campers can choose fitness for an elective, or join the early morning running club.
Facilities (they've got a ton!)
The Tyler Dome has a full-size basketball court and indoor roller hockey rink. There's a social hall/playhouse, a canteen, Arts and Crafts, a woodshop/candlemaking area,
2 state-of-the-art cooking shops, and an amusement park-style water slide.
Movie Theatre
Outdoor "Camp-i-Theatre"
Brand New Fitness Center
Air-conditioned Cabins/Bunks
Gymnastics Center
Rock-climbing Wall/Ropes Course
Hiking Trails
Archery Site
Campsite for Camp-outs
Two Air-Conditioned Dance Studios
Yoga Studio
Robotics Center, Music/Rock Band Studio, Media Arts Center (Photography, Videography, Web Design, Graphic Design, 3-D printing)
Sports facilities include 12 tennis courts, lacrosse and soccer fields, baseball and softball fields, a batting cage, 3 gaga courts, volleyball courts, a beach volleyball court, hockey rinks, and a football stadium.
Parents can stay overnight at The Inn at Tyler Hill B&B.