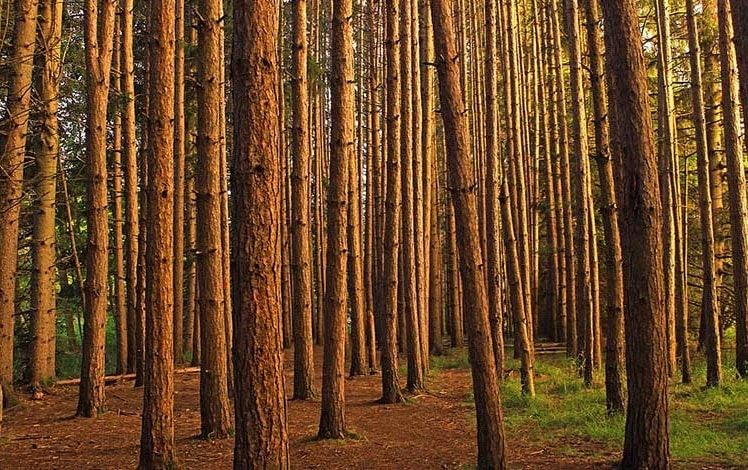 Austin T. Blakeslee Natural Area offers hiking, picnicking, and fishing in season with a license. It's a 130-acre preserve nestled along Tobyhanna Creek, a popular spot for fly-fishing. Motorized vehicles, including ATVs, are prohibited. You'll find an info kiosk and a covered pavilion with picnic tables and BBQs at the bottom of the trailhead. On the overlook, there is a clearing furnished with picnic tables.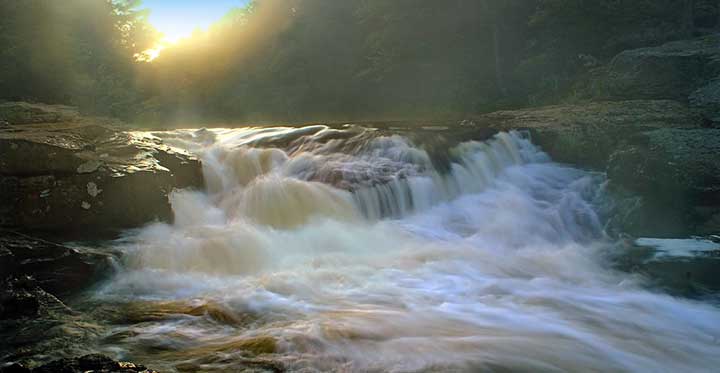 In the 1930s it was called Harrison Park and boasted a roller rink, dance hall, swimming pools, steam-operated carousel, penny arcade, and softball fields. Today it is the 130-acre Austin T. Blakeslee Natural Area, located 15 miles west of Mt. Pocono, just a few miles from Lake Harmony and Pocono Raceway, and a quick hop from Rt. 80 via the Blakeslee exit.
A trail travels from the end of the parking lot and follows Tobyhanna Creek for about half a mile before reaching (ta-da!) Tobyhanna Falls. Here is where you'll find the clearing known as The Falls Overlook, where you can break out the vittles and set up shop on one of the picnic tables, and take a rest on one of the benches.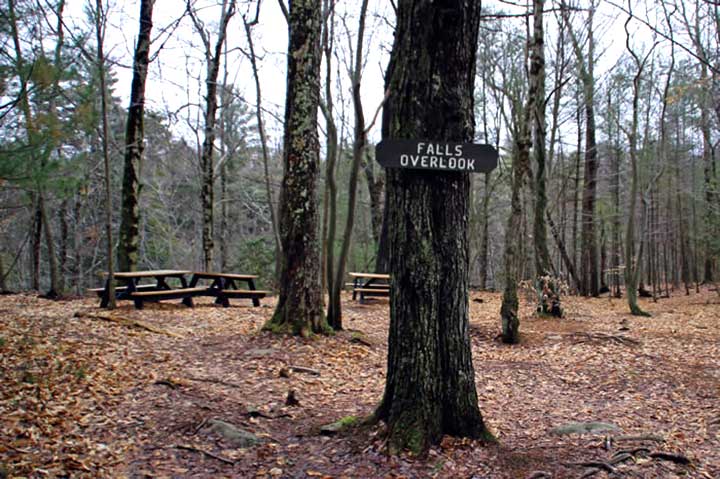 Trails
The three main trails are blazed in red, blue, and orange. There are a lot of side trails as well (bring your GPS!) The trails have lots of roots and rocks and are a bit wet in many places. Bring a walking stick and be sure to wear the right kind of shoes.
The red-blazed Creek Trail is the main trail, a 2.3-mile loop that leads to the waterfall and is good for all skill levels. The trail is primarily used for hiking, walking, fishing, and fly fishing and is accessible year-round. Yes, you can bring Fido, on a leash.
The orange-blazed Pine Trail is a quick half-mile loop. The Highland Trail is blazed in blue, almost a mile long, and loops through mixed hardwood and pine forests above the creeks.
There are two parking areas, both of which have trails that connect to Tobyhanna Falls. The best one to park at is the one next to the bridge over Tobyhanna Creek. It's the first parking area you'll see when you're coming from I-80, and the second one you'll see if you're coming from Blakeslee.