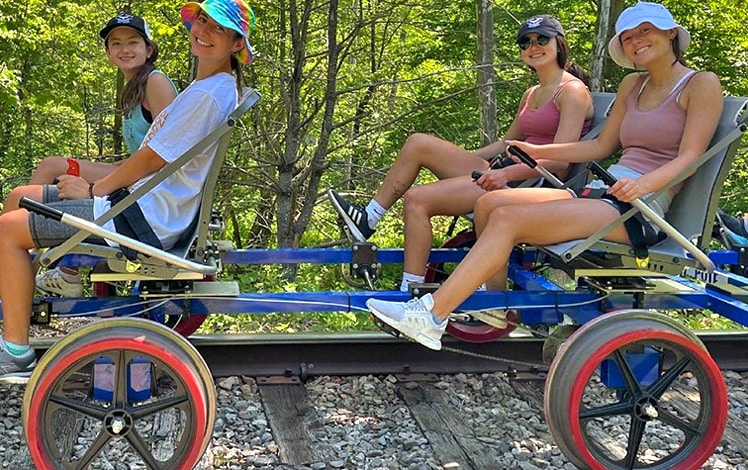 Soaring Eagle Rail Tours scenic and recreational rail biking uses custom-made red, white, and blue railbikes along the Delaware Lackwaxen and Stourbridge Railroad tracks.
Soaring makes use of old railway tracks to power custom-fitting railbikes that take passengers around the Lackawaxen River.
They come in tandem (2-seater) or quads (4-seater) allowing friends and families to enjoy the experience together. Each adventure is approximately 6 miles long and takes about 2 hours to complete.
All guests will leave simultaneously, accompanied by a team of our amazing tour guides placed both in the front and back of the group. After we depart, the group can spread out along the track, allowing each group to enjoy the outdoor adventure at their own pace and in their own space.
Railbike adventures are truly meant for everyone! Couples, families, groups of friends, people of all ages and abilities can enjoy a rail bike adventure.
Seatbelts, staff, and first aid are on board. Sturdy, securable closed-toe shoes are required. Athletic shoes are recommended.
Soaring Eagle Rail Tours is open from Memorial Day through Halloween. Check the website schedule for hours.