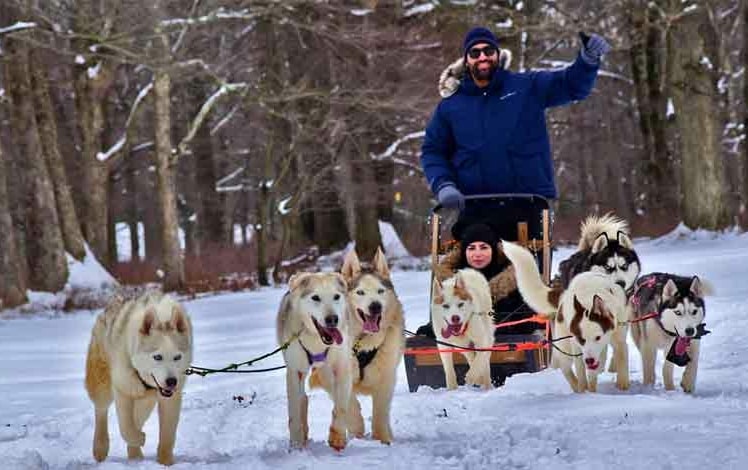 Arctic Paws Dog Sled Tours
Arctic Paws Dog Sled Tours is a unique experience with amazing huskies located less than two hours outside of New York City and Philadelphia. You don't have to travel to Alaska, Canada, or New England to enjoy spending an hour with a team of friendly Huskies, with or without snow.
Arctic Paws Dog Sled Tours is the premier dog sled adventure located at the Shawnee Inn and Golf Resort.
This adventure provides you with a taste of what dog sledding is like. Plan to arrive on time for your tour and spend an hour exclusively with some extraordinary huskies who are ready to entertain you. Without snow, the experience is riding along on comfortable UTV's with the huskies. When there's snow you are invited to stand on the back of the sled and have complete control of the huskies.
The owners are there to guide you, and ensure you and the huskies are comfortable and safe. Each guest takes a turn riding on the back of the sled. Younger children may ride in the basket of the sled while adults are the drivers (mushers).
Bring your own dog to experience the joy of dog sledding with your husky. Arctic Paws Dog Sled Tours allows you to be the musher mushing with your own Siberian Husky, Alaskan Malamute, Samoyed, or Alaskan Husky sled dog. Your northern breed dog must be dog and people friendly to participate.
Shawnee Hotel guests with a confirmation number are given preference and a special rate.
Arrive early to use the facilities inside the hotel and to change into appropriate clothing. Arctic Paws Dog Sled Tours is located to the left of the hotel near a green building along the river.
"Great time! Eric and the gang went above and beyond. They have a great setup right along the river with some spectacular views. I can't recommend it enough. The kids haven't stopped talking about it since we went over the weekend. Thanks for the awesome time…we can't wait to be back!"
Head just two miles up the road to the 250-year-old Minisink Hotel for burgers and brews when you're done!