Mahoning Drive-In Theater
Established in 1949, The Mahoning Drive-In Theater is one of America's remaining drive-in movie theaters.
This hidden treasure has developed a devoted community of cult and classic cinema fanatics, film buffs, and eclectic moviegoers of all kinds.
It has entertained moviegoers for over half a century on the largest CinemaScope screen in Pennsylvania. They offer an exclusively retro 35mm film program, which is presented reel-to-reel via original 1940's Simplex projectors. You may have guessed that they specialize in vintage films. In fact, Mahoning Drive-In is the last in the U.S. showing 35 mm films every weekend.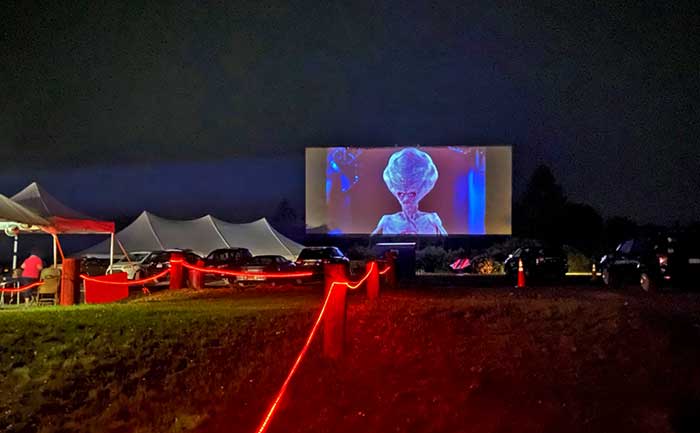 The sizable grounds can accommodate up to a thousand cars and features a 109 ft. CinemaScope screen, which is the largest on the East Coast and second largest in the country. Unlike many drive-ins from the time period, the Mahoning has undergone very few changes over the years so the theater has retained its old school feel.
Moviegoers get the film soundtrack with their radios tuned to FM 89.3.
Gates open at 6 pm. Arrive well before showtime and you'll have plenty of time to get a good spot, set up overnight sleeping areas if you're staying overnight (for 10 bucks), socialize, grab some tasty and inexpensive food and peruse vintage VHS, LPs, and merch for sale in the concession stand.
The Mahoning Drive-In also allows camping, so visitors can use the drive-in as their home base for the weekend. Weekend passes are sold, which allows movie fans to venture to nearby Pocono attractions like the historic town of Jim Thorpe, Camelbeach waterpark, or Big Pocono State Park during the day, before returning to catch another evening of film and fun.
Cars with out-of-state license plates are plentiful, indicating just how popular this drive-in is among out-of-towners. For many, distance is hardly a prohibitive factor.
Films start at dusk, as soon as it gets dark enough for projectors to light up the screen.
Bring cash for the concession stand. The nearest ATM is located down the road at the Giant/Big Lots plaza.