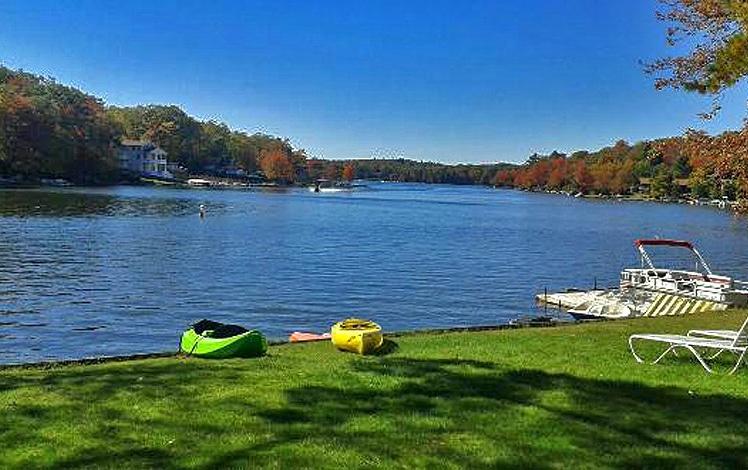 Pocono Mountain Rentals offers the best vacation rental homes in the Lake Harmony area. Whether you're coming for a small ski trip, a large family reunion, or just looking to get away from the hustle and bustle of everyday life with a group of friends, Pocono Mountain Rentals has the ideal home for you.
Choose from Split Rock, Big Boulder, Briercrest, Towamensing Trails, and Lake Harmony rentals.
With amenities like outdoor hot tubs, fire pits, big-screen TVs, pool tables, and arcade-style video games, no one will be bored. Some of the homes offer cool features like indoor/outdoor gas fireplaces, media rooms, screened-in porches, or bonus/poker rooms.
All homes are laid out for optimum use by every size group, from small couples retreat to a large corporate outing, and families of all sizes will enjoy being together for vacation.
Fans will find they're just 8 miles from Pocono Raceway. You're also just a whistle away from Louie's Prime Steakhouse, a rustic and casual (but still upscale) American steakhouse. You can check out all of the local eateries here.
71 Lake Drive offers a spectacular view of Lake Harmony. It's a custom chalet with 4 bedrooms and 4 baths that was built with an attention to detail that melds modern with old-world charm. This one-of-a-kind home is being sold completely furnished (including the wine collection) and a few pieces of artwork.
The living room features the original stone wood-burning fireplace and a slate floor. The open floor plan makes this a perfect home for entertaining.
The ultra-modern kitchen is a cook's dream with granite, stainless appliances, and an adjoining kitchenette.
The formal dining room leads to a side patio for summer barbecues. Relax by the fireplace in the palatial great room watching your favorite team or reading your favorite book; enjoy lake views while sipping your favorite cocktail in the stocked whisky bar/music room that leads to a grand deck overlooking the lake.
The master bedroom with his and hers closets and a beautifully tiled master bath with tub and shower are on the 3rd level, You'll find 2 more bedrooms and a full bath, plus a loft.
The 4th level guest quarters offer a spectacular view of the lake. This suite features a spacious sitting area and a tiled bath.
Terrace level has a powder room, storage garage, and stocked wine cellar. The deck lets you overlook 100 feet of shoreline with a dock and private beach.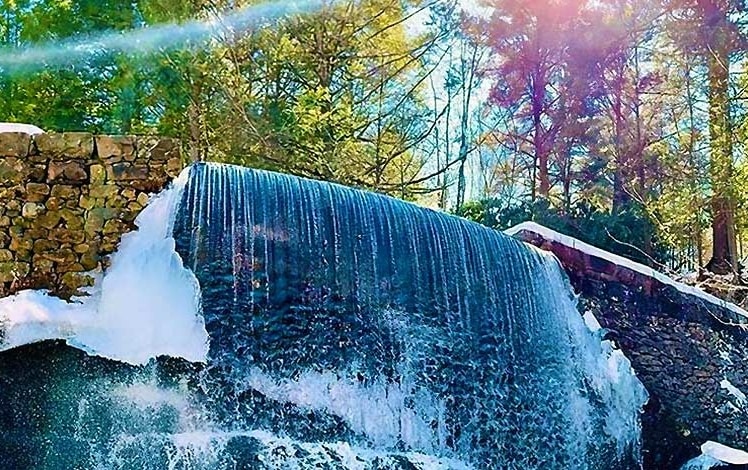 Shades of Death Trail is a 2.4 mile out and back trail located in White Haven's Hickory Run State Park. This beautiful hike follows along Sand Spring Run with views of waterfalls, rhododendron thickets, and unique rock formations. The trail is primarily used for hiking, running, and bird watching and is best used from March until October.
The trailhead and parking are available by the park office, or along PA 534 by the nature center and amphitheater. This trail is beautiful and seemed to change around every bend. Sand Spring Run flows alongside the entire trail.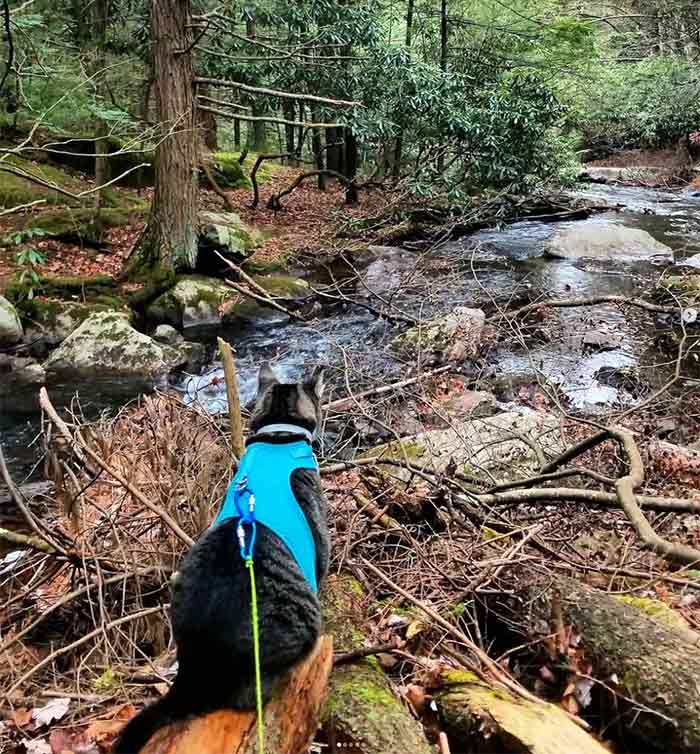 From the visitor parking lot find the Shades of Death trailhead and follow the path along the stream. The trail will eventually climb up abruptly and run adjacent to Rt 534 briefly before dipping back down into the woods along the stream. Continuing will reveal many beautiful scenes along the water as well as lush grown and interesting rock formations. Ultimately you'll be rewarded with a beautiful waterfall originating from a reservoir created by a stone wall. These are the remains of an old logging mill dating back to the early 1800s.
Excellent place to spot Blackburnian and black-throated green warblers in the spring and summer.
There are bathrooms in parking lot at the visitor center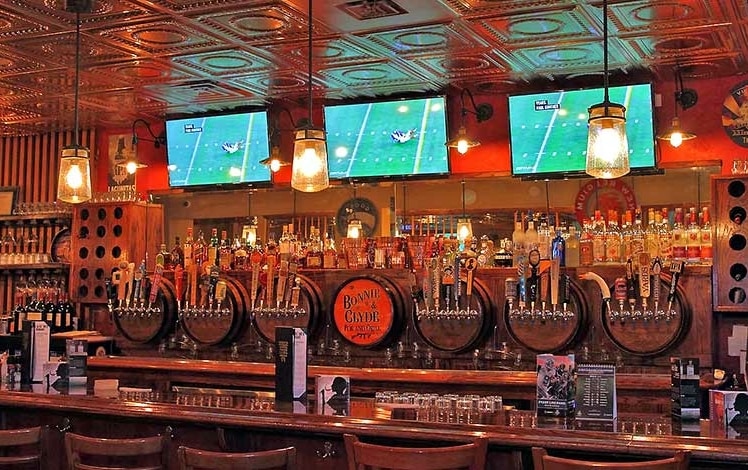 Bonnie & Clyde Pub and Grill
Bonnie & Clyde Pub and Grill boasts an intimate 1930's atmosphere. They offer 36 drafts, over 70 craft bottles, specialty cocktails, and a wide variety of local and imported wine. Burgers, entrees, pastas, vegetarian dishes, and seafood, as well as specialty desserts made in-house daily.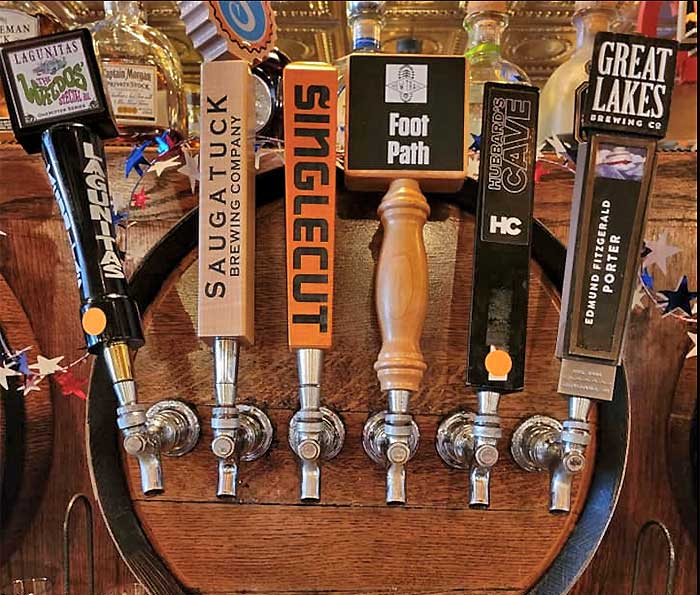 Daily specials can include lobster man & cheese, roast duckling, Duck Trap smoked trout, crab cakes, and New Zealand venison Ossoc Bucco.
Bonnie & Clyde Pub and Grill has comfy booths and tables and 4 TVs behind the bar next to 6 beer barrels with 36 draft taps. Lots of special touches like house-made potato chips and house-made desserts.
Kitchen closes at 9:00 pm, stays open until 10:00 pm on Friday and Saturday.
"This was the last place I would think one could try exotic meats like kangaroo and ostrich steaks! You don't really think of a place with 50 gazillion choices of beer to choose from to offer such items…but those were on their long specials menu, and so of course we had to try. We had kangaroo steaks before so decided on the ostrich steak that was well grilled and very tender cooked to a medium rare. Also liked their crab dip and portobello mushrooms topped with sausage, bacon and cheese. The rib eye special was great as well and it was worth it. It was nice to be in such a high energy atmosphere."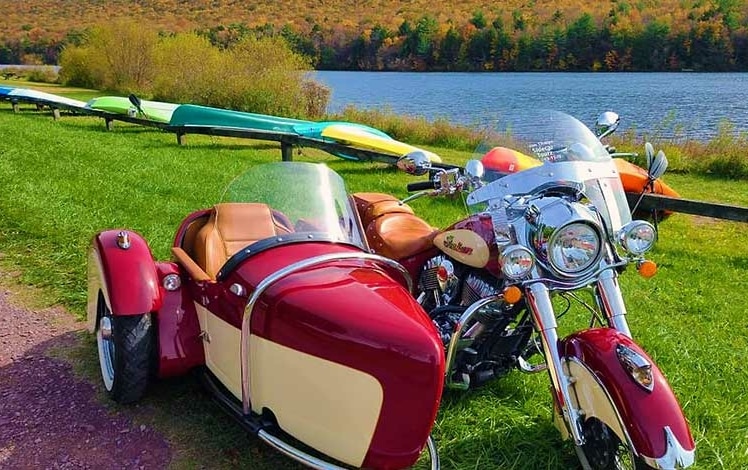 Jim Thorpe Sidecar Tourz offers exhilarating vintage sidecar rig rides around the beautiful historic town of Jim Thorpe and its surrounding splendor.
Hop in a sidecar and take a journey on the local winding roads and experience the breathtaking scenery. The sidecars are vintage BMW sidecar rigs.
Choose from a deluxe town tour, a scenic mountain tour, a backwoods wilderness tour, a countryside scenic tour.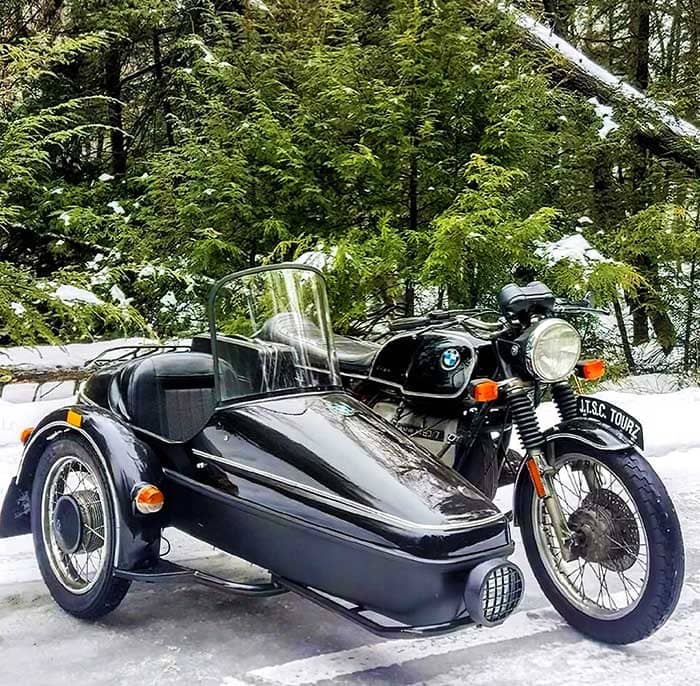 Jim Thorpe Sidecar Tourz tours begin and end at the Marion Hose Bar, which is a great place for a snack or a meal.
Sanitary goggles and helmets for all passengers are provided with all packages. Wear long pants and sturdy, closed-toe shoes.
"A unique way to explore the town of Jim Thorpe and the surrounding area. Owner Barb is extremely knowledgeable about the history and geography of the area (and she seems to know everyone in town!) She's entertaining in her descriptions, and the trip is a one-to-one personal guided tour. I had never ridden a motorcycle before and this was a comfortable introduction — not scary at all, no high speeds. My companion truly enjoyed the experience from the sidecar. I highly recommend Sidecar Tourz to anyone visiting the Jim Thorpe or Poconos area of Pennsylvania."
Which Soup says "Soup is the best medicine!" and operates quick and friendly take-out counter in the heart of historic Jim Thorpe. The soup shop is in an alleyway along the side of a historic mansion with plants lining the side.
Soup choices vary from day to day with four daily varieties.
"Excellent service and excellent soup. We tried her soups of the day (chicken corn chowder, black bean, curry chicken) and all three were delicious and clearly made with quality ingredients and care. If you like soup, this is a must try when visiting Jim Thorpe!"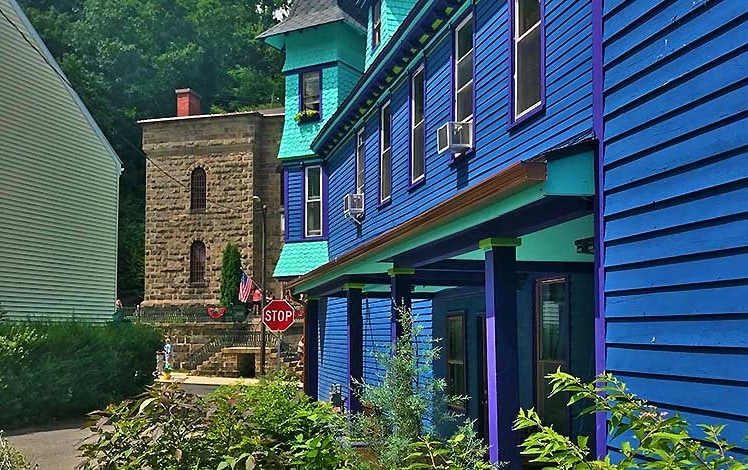 High Street Guesthouse in historic Jim Thorpe has two buildings holding nine fully equipped apartments that become your home away from home. This historic Victorian home was built in 1840 and has been renovated to have all modern conveniences. Apartments sleep from 2 – 6 guests. Many have patios or balconies.
Take the time to enjoy the beauty and nature of the Poconos with a relaxing stay at High Street Guesthouse, located within walking distance of downtown Jim Thorpe.​ Each space provides a restful retreat after a busy day of site-seeing, hiking, shopping, or enjoying one of the many local activities occurring throughout the year.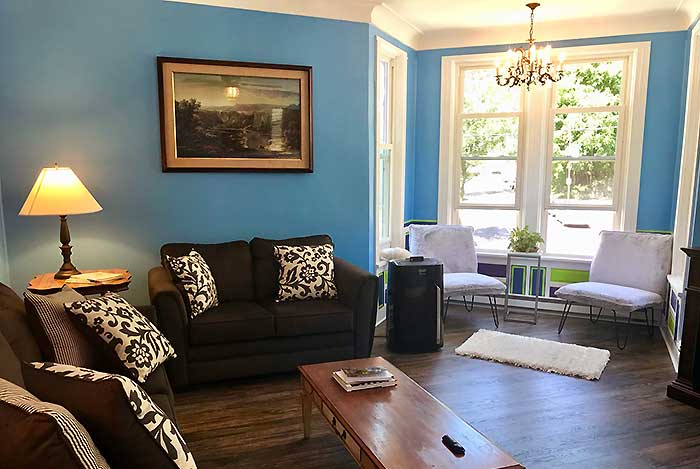 Apartment 9 has a luxury whirlpool for 2 and a 48 inch UHD TV with Roku, Netflix, and other features in addition to regular cable. See their website
"From the moment of arrival you are treated like royalty. The owner and staff are kind, informative, and fun. The apartments are designed with an uncanny thought to artistry and comfort. Jim Thorpe and High Street Guesthouse stole our hearts!"
The buildings are at 221 High Street and 125 W. Broadway, 100 feet apart, and perfect for groups.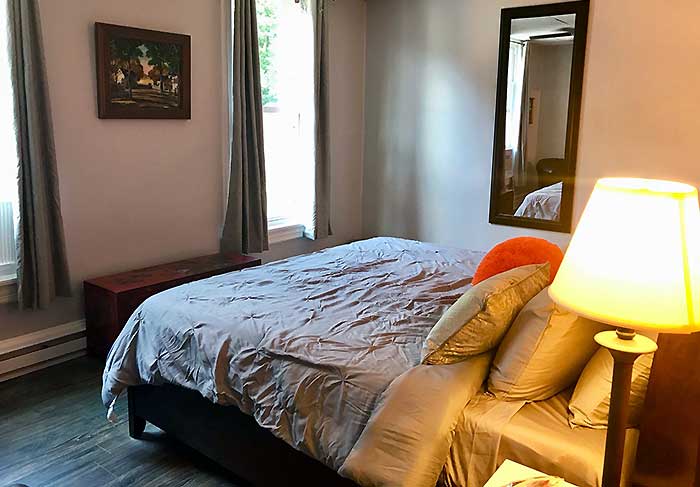 High Street Guesthouse also offers the Cabin in the Trees as part of the property.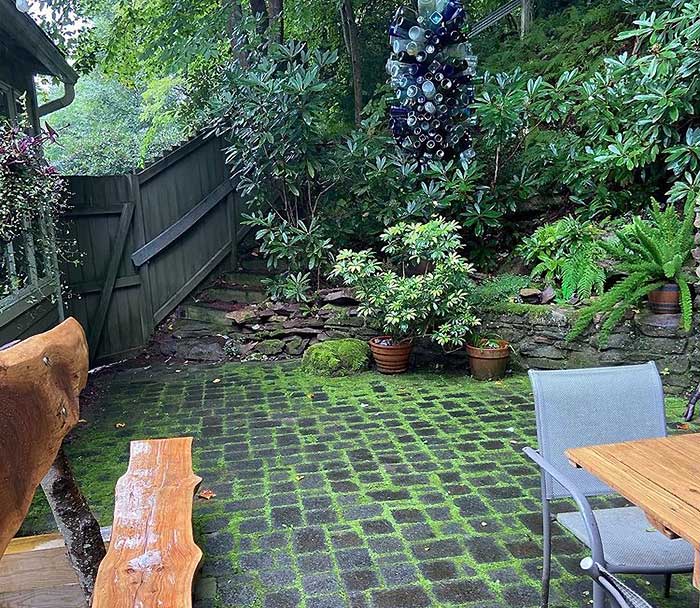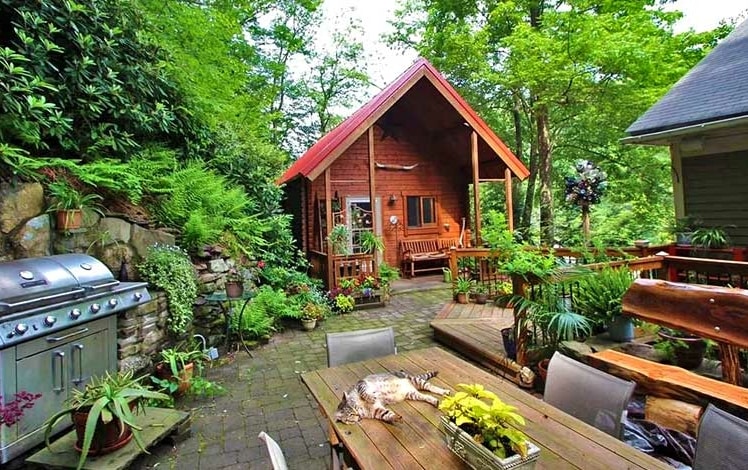 Cabin in the Trees Jim Thorpe
Cabin in the Trees is a peaceful and serene escape, yet a short walk away from all the attractions of Jim Thorpe. The cabin is 475 square feet with a living room, kitchenette, dining area, and bathroom on the ground floor. The bedroom/loft is upstairs. The cabin sleeps 3 with 1 bedroom and one bath.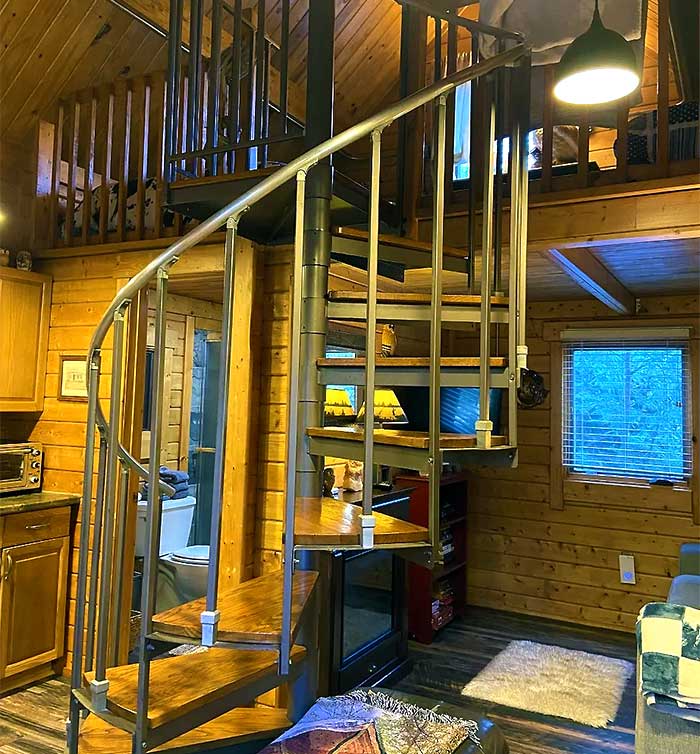 "Do not hesitate to stay. The cabin is cozy defined. The grounds and personal touches are simply enchanting. Jeffrey is a very kind and thoughtful host who has mastered the "little cabin in the woods" experience. All within the magical town of Jim Thorpe."
Cabin in the Trees has a large deck in the backyard, above the cabin and house. This cabin is NOT suitable for guests with mobility limitations due to the number of steps leading to the place. Must climb stairs and uneven stone paths!
Cabin in the Trees is a part of the High Street Guest House group of properties. Have a look!
​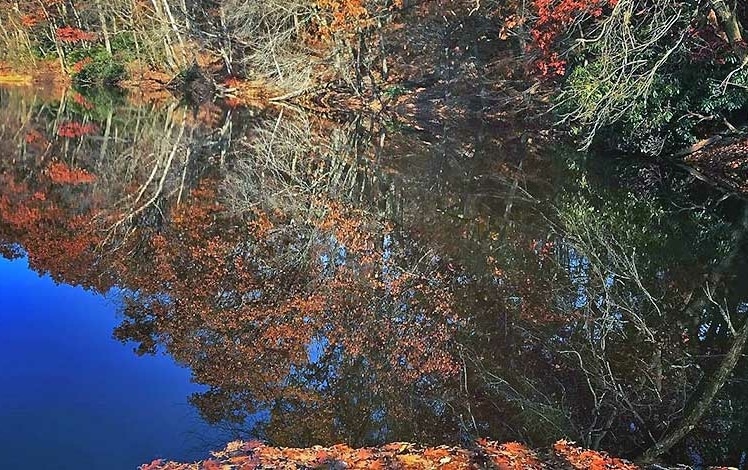 The D&L Trail runs for more than 140 miles through Eastern Pennsylvania, from Philadelphia's northern metro area to Mountain Top in the Appalachians. It follows the historical canal and railroad routes at the core of the Delaware & Lehigh National Heritage Corridor, where natural resources and human ingenuity combined to power the nation's Industrial Revolution.
26 miles of uninterrupted rail trail runs through Lehigh Gorge State Park, which extends from White Haven to Glen Onoko. The entire length of Lehigh Gorge is ideal for walking or off-road biking. The surface is crushed stone. Please refer to the DCNR Lehigh Gorge State Park website for the latest details.
The Rockport Trailhead and Glen Onoko Trailhead are both also Lehigh River Water Trail access points. Please refer to Wildlands Conservancy's Lehigh River Water Trail website for more information on trips along the water trail.
An excellent source of information about the Lehigh Gap and Lehigh Gorge State Park segment of the trail can be found here.
It's a beautiful day to hit the D&L! Pick up the trail in Jim Thorpe and stop by Wild Elder Wine and Cider Co at 76 Broadway afterward for a celebratory cider or mulled wine.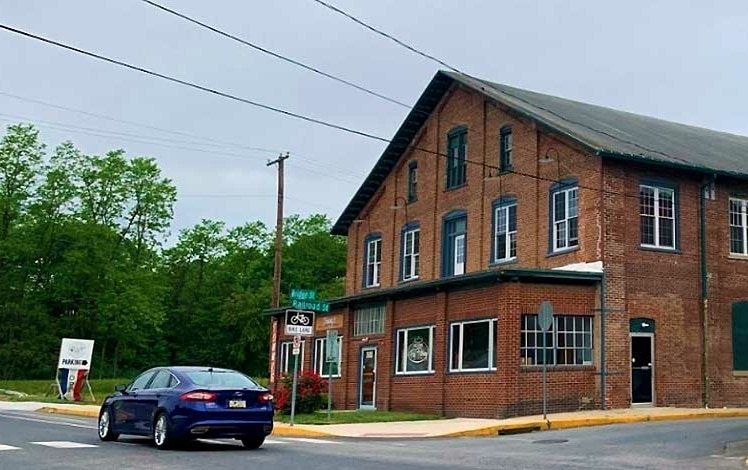 City House Hostel Poconos is quite literally a stone's throw from the Lehigh River and 4 short minutes from the D&L Trail.
It's not hard to find beauty in a place nestled between the Lehigh River, the D&L Trail, and the ski loving slopes of the Pocono Mountains.
Jim Thorpe area has drawn canoers, kayakers, bikers, hikers, ski enthusiasts, mediation guides, artists, and athletes from New York City, Philadelphia, and the entire east coast for decades. We're excited to share it with you, at City House Poconos.
Come enjoy nature and recreation in Poconos, less than 2 hours from New York City, Harrisburg, and Philadelphia, and 25 minutes from the ski heaven of Pennsylvania. It's located at Hofford Mill in the quaint town of Weissport.
City House Hostel is within walking distance of everything that makes the Poconos world-famous! From rafting, kayaking, canoeing, or tubing on the Lehigh River to hiking and biking on the D&L Trail and skiing at Big Boulder Mountain and Jack Frost.
After a day exploring the great outdoors, enjoy the local restaurants, bars, coffee shops, and adventures like ax throwing at the newly revitalized
City House Hostel Poconos is only a 12-minute walk from the Lehighton Greyhound Bus Stop.